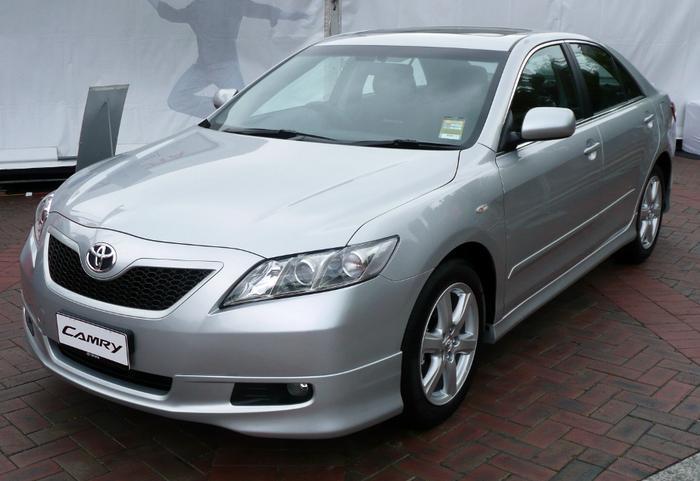 Back in January, we reported that federal safety regulators were looking into reports of braking problems in 2007 and 2008 Toyota Camry hybrids, potentially affecting about 30,000 cars.
While it's possible that the National Highway Traffic Safety Administration (NHTSA) may eventually decide there is ample evidence for a safety recall, that process is a lengthy one that often leads nowhere.
Toyota, however, appears to be trying to get out in front of the problem by issuing what's called a "warranty enhancement," under which at least some Camry owners are qualifying for warranty coverage of their problems with their brake actuator system. 
A Toyota official said there are about 177,500 vehicles covered by the warranty enhancement program. Cindy Knight, public affairs manager for Toyota Motor Sales USA, said the program applies to model year 2007-2011 Camry Hybrids. 
Letters going out
"We began sending Owner Notification letters in early July, and will continue mailing over several months," Knight told ConsumerAffairs.
At least one of those receiving the letter had been pressing Toyota about the problems he had encountered. 
"I have a Camry and had been fighting for two months to get them to pay for a replacement brake accuator (almost $2K job). They just relented and I thought you might want to do an update on your story, so others could benefit," said a ConsumerAffairs reader named Andy, who sent us a copy of the letter he received from Toyota, informing him of the warranty enhancement covering malfunctions of the brake actuator system.

In a follow-up, Andy told us the work has been done on his car and he's now a happy Camry owner. While that's good news for Andy, other Camry Hybrid drivers aren't as happy, although perhaps they will be if they are included in the enhancement program. Until then, complaints continue to pile up at SaferCar.gov, the NHTSA site where consumers can report problems with their vehicles.
Just yesterday (Aug. 4), a Toyota owner filed this complaint with NHTSA:
REGULARLY WHEN I DRIVE THIS CAR I PRESS THE BRAKES AND THEY DO NOT ENGAGE OR THEY ENGAGE ON A DELAY. I HAVE MENTIONED IT TO THE TOYOTA SERVICE CENTER SEVERAL TIMES. I FIRST NOTICED THE ISSUES IMMEDIATELY AFTER I PURCHASED THE CAR. I REPORTED MY CONCERNS TO TOYOTA WHO DISMISSED MY COMPLAINT. TOYOTA ALWAYS TELLS ME NOTHING IS WRONG WITH THE BRAKES. THEY ALSO TOLD ME THAT IT WOULD COST MY $140 TO LOOK INTO THE PROBLEM.
The day before, another consumer said this:
WHILE DRIVING I ATTEMPTED BRAKE TO SLOW ENTRY INTO UPHILL DRIVEWAY. ALL LIGHTS ON DRIVER PANEL LIT UP. BRAKES DID NOT RESPOND TO SLOW DOWN OR STOP. WITH FULL FORCE I DEPRESSED BRAKE PEDAL. SINCE DRIVE WAY WAS UPHILL, I COASTED TO STOP JUST SHORT OF GARAGE DOOR BEFORE CRASHING. THIS WAS NOT THE FIRST TIME THE BRAKES TOTALLY FAILED DURING LAST COUPLE OF MONTHS.
Consumers who are having what they think may be brake actuator problems who have not received a letter from Toyota may want to follow Andy's lead and write directly to the company. The address is:
Toyota Motor Sales USA, Inc.
19001 South Western Ave.
PO Box 2991
Torrance, CA 90509-2991