---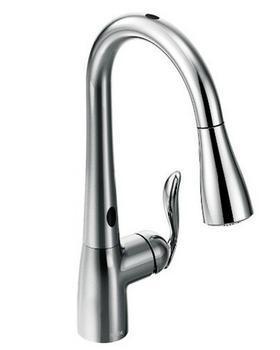 It makes sense in a public restroom to have a faucet that you don't have to touch. After all, just think of all those icky germs from people we don't know who just used the restroom. Well, now you can have that same luxury in your home.
Think about the possibilities of not having to turn your faucet on and, instead, just having the water appear when you need it. You can wash vegetables or fruit all in one swift splash. It's also an advantage for people who are disabled.
Many manufacturers are opting for this new concept -- Kohler, Hansgrohe and Moen to name drop a few.
One of the great things about a touchless faucet is the way you can save on water. The other side of the sink is that they do come with an energy cost. Most touchless faucets operate on battery or A.C. power and require sensors to work. This can be costly and inconvenient when the batteries run out and need to be replaced. There are newer models coming out that feature rechargeable batteries. These models are generally more expensive, but can end up paying for themselves in the long run because you don't have to keep buying batteries.
Not too hot
They aren't as hot as you might think though. Most traditional faucets come with a hot and cold side. Touchless faucets usually have a control under the sink and it's set at lukewarm.
Thinking of saving yourself a few bucks and installing it yourself? You might want to think again. They are more than tricky to install. Not only does the touchless faucet require power in the form of electricity, and sensors, but it is installed differently than a traditional faucet. Getting the pipes and tubes spaced correctly so that the faucet is able to receive warm water quickly is often the biggest challenge.
Cost can also be a factor. Most touchless faucets are more expensive than your traditional faucets but manufacturers are creating ways to bring the cost down. They currently range in price from $260 to about $615, but usually have a warranty, althouogh there are lesser-known brands that are available for less than $100 online.
---