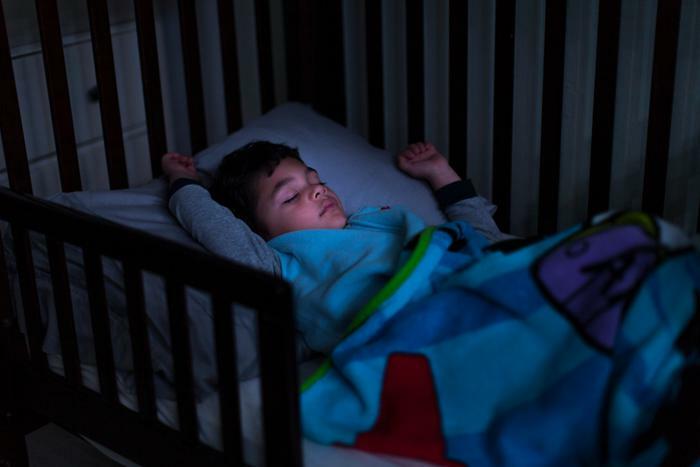 A new study conducted by researchers from the University of Delaware is highlighting the importance of toddlers sticking to a consistent sleeping schedule.
Their findings showed that toddlers' health may be impacted when they don't have a set bedtime routine and are frequently going to bed and waking up at different times. Specifically, they found that body mass index (BMI) scores were higher in toddlers with inconsistent sleeping patterns. 
"We've known for a while that physical activity and diet quality are very strong predictors of weight and BMI," said researcher Lauren Covington. "I think it's really highlighting that sleep may be playing a bigger role here than it's given credit for." 
Family income plays a role
For the study, the researchers analyzed data from more than 200 toddlers who wore accelerometers for up to one week at a time to track their physical activity and sleep; their parents also reported on their typical daily diets.
The researchers found that kids whose sleep schedules varied greatly day-to-day were more likely to have higher BMIs than kids with more consistent sleeping patterns. However, the team also believes that socioeconomic status plays a large role in many of these cases. Because so many of the families involved in the study were struggling financially, with 70 percent living at or below the poverty line, it's important to recognize how income can affect kids' routines and health.
"There [are] so many factors that are at play and not necessarily controllable, especially in disadvantaged communities," said Covington. "There's so much stigma and stereotypes out there and people are just so quick to judge. These families just want to do what's right for their children. They either just don't personally know how to or they don't have the resources to do it." 
To achieve the best health outcomes, experts recommend that kids' bedtimes stay within the same one-hour window each night. However, they admit that this can be difficult for some parents. The researchers suggest that parents and caregivers start small and work up to a more structured nighttime routine to ensure that toddlers are getting enough sleep and achieve positive health outcomes. 
"Implementing a consistent bedtime could be one behavioral change that a family could potentially do," Covington said. "It's maybe more attainable than getting healthy food at the grocery store or playing outside on the playground, especially now with the cold weather. Just having a consistent bedtime can help provide some of the structure, but they may have better implications for health and BMI as well."