---
A few days ago, Facebook announced with much bravado the inauguration of "Facebook Newswire," something it billed as a tool for journalists. Considerable scoffing ensued, with many journalists saying they would rather take tips from psychics than rely on Facebook.
But you know what? Facebook Newswire may be rough, but it's proving itself ready, if not for prime time then at least for the lead-in to prime time, as they say in the TV biz.
The idea is simple: consumers -- you know, regular folk -- see something, they shoot it with their smartphone and upload it. Human editors find the most newsworthy and compelling material and post it to FB News.
You might call it first-responder journalism -- the first, fragmentary reports from the scene of a disaster, riot or particularly cute story involving pets.
Take today's train derailment in downtown Lynchburg, Va. One of the first reports came form Adam Miller, who saw the smoke that billowed from the wreckage of the train, which later reports said had been carrying crude oil.
While heavy black smoke was billowing from that derailed train in Virginia, lighter but still dense smoke was coming from a wildfire in California, as shown in this photo from KTLA5 News.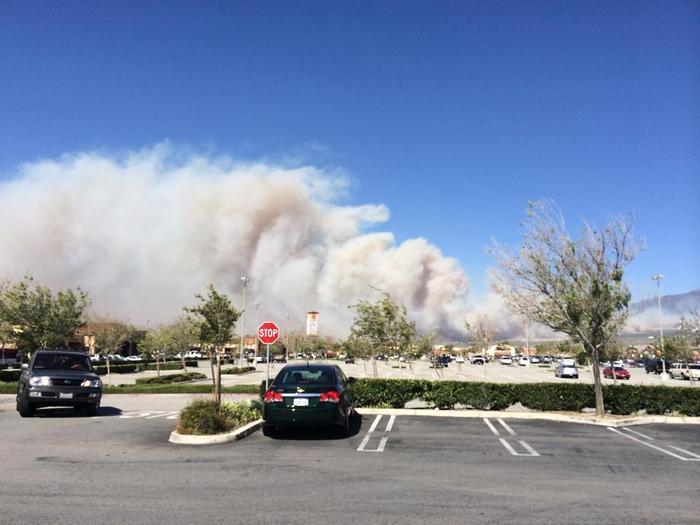 Smoke would have been a welcome site in much of the Southeast and Midwest, where torrential rains and tornadoes inflicted heavy property damage and many deaths.
OK, it's not Pulitzer Prize material but you can't say it's not breaking news. It's also a platform that, while still just a few days old, could grow into something pretty powerful.
It's not hard to image behind-the-lines documentaries exposing outrages and injustice in totalitarian countries or in prisons, nursing homes or other places where the powerless are too often voiceless.
The postings are curated and verified by professional editors at Storyful, which calls itself a social news-verification company, so it's not a totally wild-and-crazy gathering spot.
"Our goal is that the Newswire will be an invaluable tool for journalists, helping them to tell richer, more engaging stories using public content from Facebook," said Andy Mitchell, Facebook's director of news and global media partnerships, the Wall Street Journal reported.
While it's aimed at journalists, anyone can visit https://www.facebook.com/FBNewswire. Take a look. It's what they used to call "news as it happens."
---