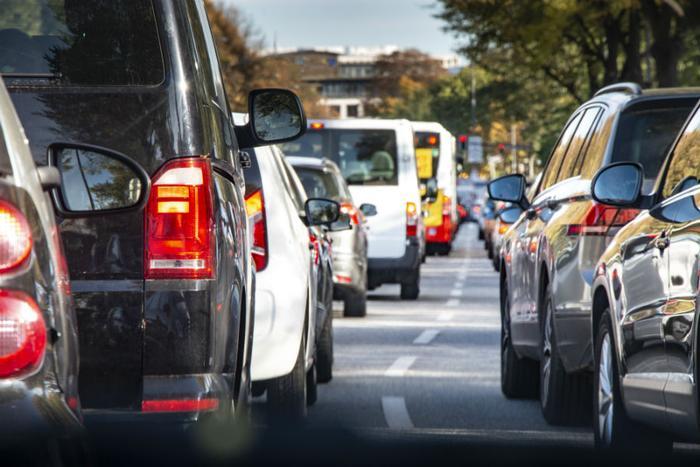 If you're leaving today for a Thanksgiving holiday trip, today is likely to offer the worst traffic you'll face, if history is any guide.
Cambridge Mobile Telematics (CMT) analyzed millions of car trips over last year's Thanksgiving holiday period and found that Wednesday was the day with the worst traffic. This year, as many as 50 million Americans will be on the nation's highways over the next five days.
That said, the most dangerous day on the road may be Thanksgiving day itself. CMT researchers say there's a lot of speeding and distracted driving, perhaps by motorists trying to get to grandma's house in time for the festivities.
Distracted driving seems to be the worst in Memphis, New Orleans, Nashville, Arlington, Texas, and Kansas City. The police hand out the most speeding tickets in Boston, Washington, DC, Las Vegas, Baltimore, and Atlanta.
Stable gas prices
The good news for holiday motorists is stable gasoline prices. The AAA Fuel Gauge Survey shows the average price of regular gas is $2.58 a gallon, a penny less than last week at this time.
Gasoline prices have been on a slow decline over the last few weeks, but prices have been going down much more slowly than they did last year. The price of regular gas is about five cents a gallon more than it was at this time last year.
"During Thanksgiving week last year we saw the national gas price average decrease a nickel between Monday and Thursday, that could be the case again this year," said AAA spokesperson Jeanette Casselano. "AAA recommends holiday road-trippers use the AAA app to find current gas prices along their route."
As of this week, 61 percent of all gas stations in the country are selling regular unleaded for $2.50 or less. 
The states with the most expensive regular gas
These states currently have the highest prices for regular gas, according to the AAA Fuel Gauge Survey:
California ($3.85)

Hawaii ($3.66)

Washington ($3.33) 

Nevada ($3.30)

Oregon ($3.20) 

Alaska ($3.15)

Idaho ($2.96) 

Arizona ($2.92)

Utah ($2.94)

Pennsylvania ($2.79)
The states with the cheapest regular gas
The survey found these states currently have the lowest prices for regular gas:
Louisiana ($2.22)

Mississippi ($2.22)

Missouri ($2.25)

Texas ($2.25)

Alabama ($2.25)

South Carolina ($2.29)

Oklahoma ($2.29)

Tennessee ($2.30)

Arkansas ($2.30)

Virginia ($2.31)