---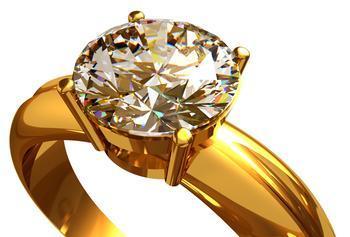 You're working up your courage to pop the question. Presenting just the right engagement ring during the proposal can't hurt your chances.
But as we've previously reported, buying jewelry can be a complicated and intimidating process. When the rest of your life may be riding on your purchase, it is even more so.
First, know your terminology. When you talk with a sale representative, he or she will use various terms to describe aspects of the ring. You need to know what they are and their importance to your ultimate decision.
The band is just what you think it is – the round part of the ring, made from a precious metal like gold, silver or platinum, that slides on the finger. Color is one of your choices. Gold can either come in the yellowish color of its natural state or white gold, which is a gold alloy that is normally coated with another metal to give it a silver color.
Plating doesn't last forever
Keep in mind that plating wears off and replating must be done from time to time. Both platinum and silver have a silvery color naturally. The band you choose will affect the color of the diamond. but before you get to the stone you need to consider the setting.
The setting refers to the piece that holds the diamond in place. As you can imagine, it's a very important part of the ring.
"I have had my two-piece wedding ring set for 11 years now," Lisa of Belvedere, Ill., wrote in a ConsumerAffairs post. "I have had to have the prongs tightened on a regular basis and I even lost the diamond once. My diamond was loose again so I took it in again. The company said they could not tighten it and that I needed to replace the entire head which will be $210."
Lisa's experience underscores the need to get a good, strong setting to start with. Jewelry experts say platinum works well, and combining a platinum setting with a gold band can provide a nice contrast. Usually, the more prongs holding the diamond in place, the better. A ring with a strong, durable setting will give the wearer added peace of mind through decades of use. And jewelry artisans are quite adept at combining durability and beauty.
The third part of the ring is the stone – in the case of an engagement ring it's usually a diamond. Keep in mind that bigger isn't always better. Diamonds are valued more for the quality of their cut than their size. While a huge rock might look impressive on her finger, people who really know jewelry will be more impressed by a perfectly cut smaller stone.
Look for sparkle
You can usually tell a nicely cut diamond by the way it sparkles. Place it next to a larger stone and see which one appears brighter.
Diamonds are measured in carats, which is not to be confused with karats – a term that measures the purity of gold. Carat refers to the weight of a diamond and the larger the number, the bigger the stone.
You'll also hear a reference to clarity. Clarity in a diamond describes the appearance of internal characteristics called inclusions and surface defects called blemishes. The fewer inclusions and blemishes, the better the clarity.
A perfect diamond is transparent but in the real world, all diamonds have some color, attributable to chemical impurities or structural defects. White diamonds tend to be valued less while those with a pink or blue tint can be very expensive. The color of the stone should play a role when you select the band and the setting, so that they go together in harmony and don't clash.
The diamond's cut doesn't refer to its shape but rather its symmetry. A diamond cutter will select a cut that takes advantage of the stone's material properties. An expertly cut diamond will be brighter. If the stone is poorly cut it might appear dull.
The four Cs
Together, carat, clarity, color and cut are known as "the four Cs" of diamonds and are things to consider when choosing a ring.
Where you buy the ring is also important. Jewelry store chains sell lots of engagement rings but some of the individual stores may be better than others. Mariana, of Washington, DC, writes that her fiance expressly ordered a platinum band for her engagement ring at Zales.
"However, a professional, independent appraisal revealed that the ring was actually white gold, not palladium," Mariana writes. "I contacted Zales to see what they would do to fix it. They offered to get the original in palladium or upgrade to platinum. That sounded good, but after the jeweler told them he couldn't do it in palladium, Zales said my only option was to allow the jeweler to choose a different ring with a cathedral setting and reset the ring in that setting."
To avoid unpleasant surprises, ask friends who have purchased jewelry which store they would recommend. Also, read online reviews at sites like ConsumerAffairs.
Finally, try to make sure the ring fits. If possible, take one of her rings and trace the outline of the inside of the band on a piece of paper. If you give the paper to a jeweler, he or she will be able to determine the proper size.
True, a ring that doesn't fit can be resized, but having to do that can dampen the big moment. The perfect ring she can slip on her finger and wear forever can help you seal the deal.
---