---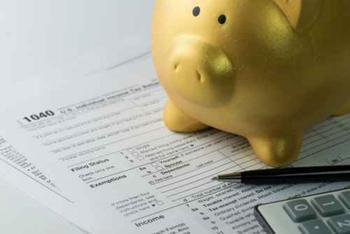 Got plans for the weekend? You may have to put them on hold if you haven't gotten around to filing your federal income tax return.
Though April 15 is normally the deadline for getting your return in the mail to the Internal Revenue Service (IRS), this year the deadline falls on Monday, April 18, since today is a holiday in the District of Columbia.
If you'll be spending the weekend shuffling receipts and filling out forms, the IRS has some advice.
Use the internet
First, file your return online. It makes the tax agency's job a little easier and it will also get any refund to you a lot quicker. When you file electronically, the IRS says it normally takes about three weeks to process your refund – even faster if you have the money direct deposited into a bank account.
The IRS offers this handy guide to individuals who are e-filing their own returns. If you file electronically, you won't be able to physically sign the return. The IRS explains here how to do it electronically.
If you are going old school and filing a paper return, make sure all necessary forms are attached to Form 1040. The IRS would like them placed in order of the sequence number located in the upper right hand corner of the schedule or form.
Don't forget to attach a copy of your W-2, which is a record of your compensation from your employer. If you received a corrected version of your W-2, form W-2c, make sure you include that.
Where to send it
When filing a paper return, it means you have to mail it somewhere. The address will be determined by where you live, and whether you owe additional taxes or are getting a refund. You'll find the the address you need here.
If you owe additional tax, make the check out to United States Treasury. Make sure the check contains your name, address, taxpayer ID number, daytime phone number, tax year, and the name of the tax form you are submitting – such as Form 1040.
If you are filing electronically, you can pay online by following the instructions in Form 1040-V.
Of course, you might want to keep your weekend plans and file for an extension, giving you another six months to complete the process. It just requires filing the proper form by the Monday deadline, found here.
If you owe additional tax, be sure to include the amount with the extension form, otherwise you'll face a penalty and interest. If you aren't sure how much you owe, it is better to overestimate on the payment. You'll avoid the penalty and get the balance as a refund when you do file.
---