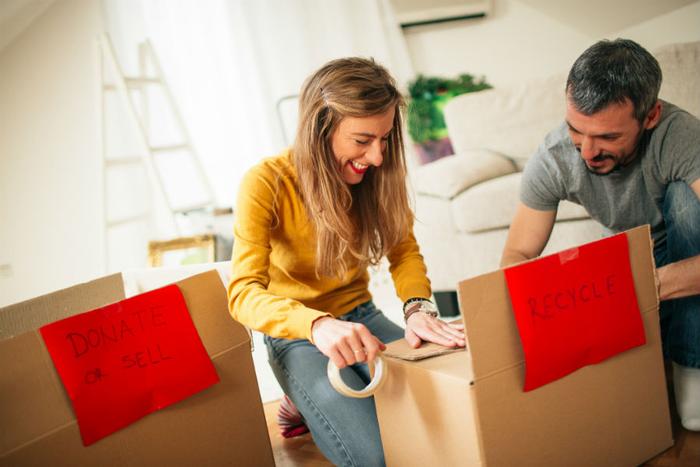 January is National Get Organized Month, and with good reason. 'Get organized' is consistently on just about every list of the most popular New Year's resolutions.
If you're among those starting off the New Year with a goal of getting organized, you may be wondering where to begin. Cutting through the clutter starts with setting attainable and realistic goals, says professional organizer Chris McKenry.
"If being organized is a goal, spend a few minutes each day decluttering just one area of your home or office. Before you know it the clutter will be gone and you can focus on other goals," he told ConsumerAffairs.
Organize holiday decor
Holiday decorations can take up a sizable chunk of space in an attic, basement, or other storage area. To prevent yourself from holding onto decor you no longer use, McKenny suggests taking stock of what you enjoyed having on display this year.
"Get out all your containers and see what was NOT used this year," he suggests. "Items no longer used or loved should be set aside for donations. Before taking decorations down, take pictures and then place items in containers to help remember what you liked next year."
You can sort decorations as they come down by category or by room, he says -- whichever will make decking the halls easier next year. He also recommends labeling boxes of holiday decoration with the year the decorations were used.
"This will help you remember what possibly is no longer wanted.  Before closing the container place a new package of ornament hooks. Now you are ready for next year!"  
Edit, Sort, Contain, Maintain
Keeping clutter at bay throughout your home can be a challenging feat, but one that can be made easier by practicing the "edit, sort, contain, maintain" technique.
Here are the key principles:
Edit. Throughout each month, collect items around your house that you no longer use, want, or love. Then donate them to your favorite charity. You can even mail them to charity in an old Amazon box you may have lying around. Remember that charities don't want trash, says McKenny; sometimes things should just be trashed or recycled.

Sort. Categorize what is left. In your closets, keep pants together, shirts, etc -- then sort each clothing category by color. In the kitchen, create zones. Keep all food in the food storage zone, all cookware in the cooking zone, all towels and cleaning supplies in the clean-up zone, and so on.

Contain. "Containing doesn't necessarily mean using containers, but containers may be helpful," says McKenry. He recommends grouping similar items together and keeping things where they are used. "This may mean the ironing board goes in the hall closet not the laundry room if ironing is done in front of the TV."

Maintain. The above-mentioned three steps are just the beginning. Staying organized is a continuous journey, McKenry says. "Things happen, and clutter comes at us every day. Plan to do maintenance throughout the year to keep your life organized."