---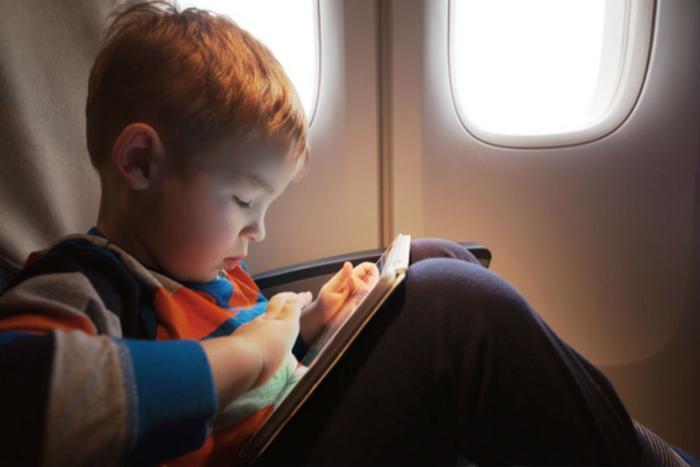 If paying Grandma a holiday visit requires a plane ride now that's she's moved to Florida, you may be wondering how you'll ever survive the in-flight experience with offspring in tow.
It can be anxiety-inducing, but as the old saying goes, preparation is the key to success. Here are few tips for keeping kids happy while you're up in the air.
Plan ahead
Bring plenty of your child's favorite snacks in case he or she gets hungry before the in-flight meal is served. A hungry child will let you, and every other passenger, hear about it.
Dress them in layers to be sure they'll stay comfy no matter the temperature. Emergency layers are also good to have in case of … other accidents.
And while packing toys in your carry-on is a good idea, it may be a smart move to save your child's number one favorite toy for later. Skyscanner Chief Strategy Officer Bonamy Grimes has a clever solution for making it all better in a moment of desperation.
"Stock up on toys, but make sure you hold back a favorite teddy that you bring out on the plane, and keep one in reserve for the way back," says Grimes. Also, he adds: "There is always the risk of losing a cherished companion in transit, which is heart-breaking, so whenever you buy them a soft toy, buy two and if the worst happens, substitute New Porky for Left-On-Plane Porky."
Flying is fun
Sitting in a chair in the sky is much more novel to kids than it may be to you. So make it fun!
"Point out the small houses, the clouds, the setting sun," says Skyscanner CEO Gareth Williams. "If you're desperate, get them to count how many passengers are on the flight. And if you can, get a visit to the cockpit. Even adults enjoy it."
If your kids are afraid of flying, Skyscanner Writer Oskana Ermolaeva recommends making it into a game. "My daughter used to be afraid of flying. To cure this condition, I played role games with her," said Ermolaeva.
"Let your child be a pilot or flight attendant. Play everything that normally happens on board," she says. "This really helps to avoid pre-flight and in-flight panic."
On the plane
It goes without saying: a bored child is a pain in the rear — so keep plenty of entertainment on hand. Oskana recommends an iPad on long-haul flights.
"Don't be afraid of your child becoming gadget-addicted," says Oskana. "It is just a flight — let kids do what is interesting for them even if at home you limit the time they spend on a computer or playing games."
Bring notebooks and drawing utensils for younger children, and perhaps a book or Kindle for older children. The value of an iPod and headphones also goes up tenfold while up in the air with kids.
Finally, remember to take care of yourself. When you're in good form, you'll be more able to cope with the inevitable challenges of parenting.
---