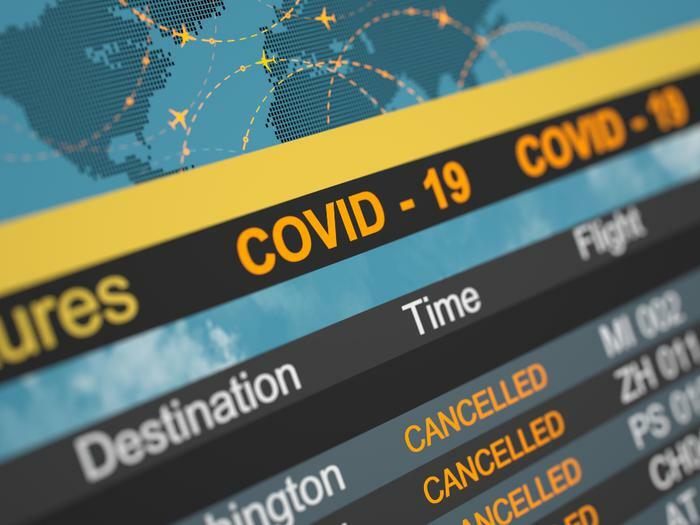 Thousands of flights were canceled as we entered the Christmas weekend, and anyone who flew and actually made it to their destination should feel lucky. However, they'll need even more luck getting home because the list of cancellations started growing again on Monday morning. 
According to FlightAware, there were 7,690 delays and 2,523 cancellations by noon on Monday – growing at a rate of about 4% an hour.
Airlines are pinning most of the blame on the continued spread of the COVID-19 Omicron variant, which is forcing some airline workers to stay home. A United Airlines memo reviewed by CNN stated that the "nationwide spike in Omicron cases this week has had a direct impact on our flight crews and the people who run our operation."
CNN reports that Lufthansa plans to cancel 10% of its winter schedule – or 33,000 individual flights – because of the pandemic's impact on the aviation industry.
Cancellations continue to grow
At the top of the "most canceled" list is SkyWest Airlines, with 249 Monday cancellations. SkyWest is a partner of Delta Air Lines, American Airlines, United Airlines, and Alaska Airlines that typically takes passengers from major hubs to smaller markets.
"SkyWest teams are working to recover after weather impacting several hubs, as well as increased COVID cases and quarantines amongst crewmembers, have resulted in higher than normal flight cancels through the weekend and today," the airline said in a statement emailed to ConsumerAffairs. "We apologize for the inconvenience and are working to resume normal operations as quickly as possible."
The list of cancellations is already getting bigger. FlightAware data shows that 826 flights have already been canceled for Tuesday; more than 200 have also been canceled for Wednesday.
Adding to travelers' woes is the potential for bad weather between now and the end of the week. Western U.S. states are already getting hit by winter storm Elmer, and there's a likelihood of major storms – and even tornadoes – forecast for the south-central U.S. going into the New Year's weekend.