---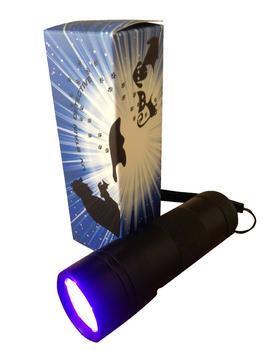 If you can't tell by the smell then you might want to get one of these, a Pet Urine Detector or its official name "UV Stain Detective." It could save you hundreds of dollars in cleaning bills if it works as well as its manufacturer claims.
The UV Stain Detective looks pretty much like a standard flashlight. It is equipped with 12 LED lights and a sturdy but compact body with a on-off switch. Just to round off the difference between the UV Stain Detective and other products they threw in the 3 AAA batteries which come already inserted in the device.
Working families are not always able to get home as quickly as they like and it leaves a dog or cat to find a favorite spot or two. This can be a great way to detect where they have actually gone as opposed to where you think they may have gone. That smell can be tricky to pinpoint.
The ammonia in the urine shows clearly under the glare of the black light when conditions are otherwise dark. so you can actually see where the animal has relieved themselves. That makes cleaning easier and you can spot clean as opposed to having your entire carpet cleaned.
We haven't tried it yet. Have you? Let us know how it works out.
---