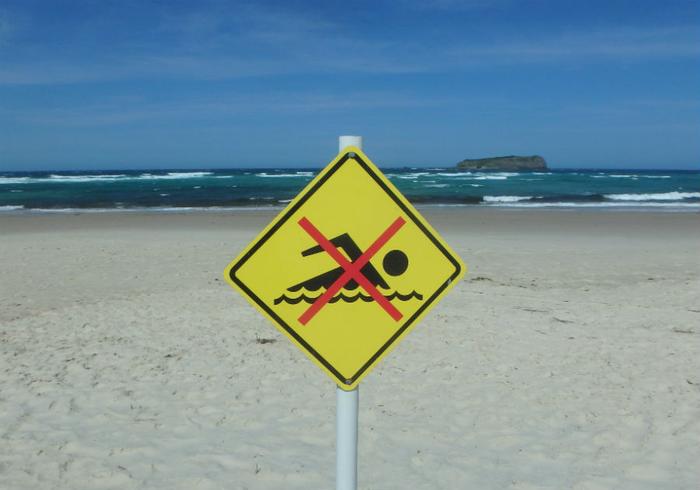 If you're headed to the beach for spring break, checking out the condition of the water before your arrive is not a bad idea.
TexasBeachWatch.com, a site operated by the State of Texas, rates the state's beaches according to their cleanliness. Recently, it listed a handful of public beaches along the Gulf Coast as having higher-than-normal amounts of fecal matter in the water.
Specifically, the website listed Corpus Christi Bay and North Padre Island as having significant amounts of fecal bacteria. The site also notes a rise in contamination at Freeport, Matagorda Bay, and along the Galveston coast. You can check out current pollution levels here.
The State of Florida also maintains a close watch on its water quality. Florida Health has an online tool where vacationers can check the most recent water quality at hundreds of the state's beaches.
Health risks
Swimming in contaminated water carries obvious health risks. The Environmental Protection Agency (EPA) says untreated sewage can get into the ocean in a variety of ways. It can come through runoff from heavy rains, washing animal wastes into the water, as well as inadequate sewage treatment facilities.
When it does, it can expose swimmers to microorganisms called "pathogens" that can make swimmers sick. The most common illness is gastroenteritis. Its symptoms include nausea, vomiting, stomachache, diarrhea, headache, and fever.
Swimmers who come down with ear, eye, nose, and throat infections may have also come in contact with polluted water.
Other threats
Spring break vacationers headed for the beach should also remember that illness isn't the only thing that could spoil a vacation. Waves and water currents in the ocean are very different from other bodies of water and require heightened awareness.
In particular, the Red Cross warns beachgoers to be aware of rip currents that can carry even strong swimmers very far offshore. Rip currents are not easy to spot and can form in low spots and breaks in sandbars, or near structures such as jetties and piers.
While swimming on a public beach, it is always a good idea to do so in water close to a lifeguard. Children and inexperienced swimmers should also always wear a flotation device while in the water.