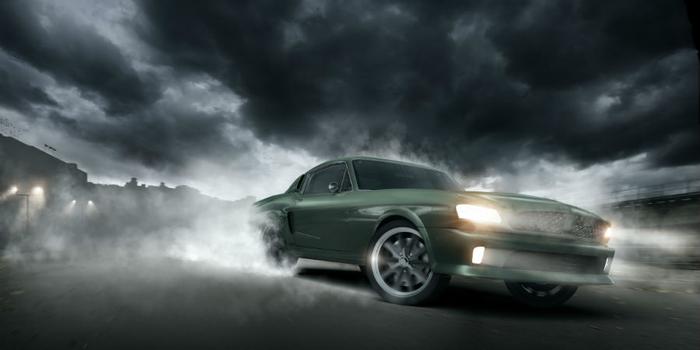 A London woman is "distraught and heartbroken" after car thieves broke into her Ford Mustang parked in her own driveway and drove off with it. And no, she didn't make the classic mistake of leaving her door unlocked with the car keys inside.
The car thieves, according to the BBC, were captured on surveillance footage waving a device in front of her car that can mimic key fobs and "trick" the vehicle into unlocking. They successfully got the door to open, and then, thanks to the Mustang's keyless ignition, sped away in the middle of the night.
They apparently can thank Ford's "intelligent access system," as the company calls it. The feature allows consumers to "unlock, lock and start your vehicle without having to reach for your keys."
It's another sign that perhaps reaching for one's own keys is worth the physical challenge. In March, police warned that the Ford Fiesta, apparently Britain's most popular car, had been targeted in a string of thefts via the same keyless entry device.
The car thefts targeting consumers across the United Kingdom come several years after researchers at the University of Birmingham warned that this was bound to happen.
Goodbye Google+
Google's attempt to build a social media platform to rival Facebook has predictably ended with the revelation that it also exposed users' vulnerable personal data to third parties.
A Wall Street Journal investigation this week revealed that a bug in Google+ gave third party app developers the ability to access the personal data of people who had never even used or granted permission to the apps.
Google engineers became aware of the bug but opted not to disclose it to the public to avoid bad publicity in the wake of the Facebook Cambridge Analytica fall-out, the WSJ said.
Shorty after the newspaper report went live, Google announced that it would shutter Google+ for good. At the same time, Google executives claimed that "we found no evidence that any developer was aware of this bug" or had abused it.
Payment platform
Hackers used stolen Apple IDs to break into one of China's most popular payment platforms and steal customers' money. Alipay announced that it has contacted Apple and is telling users to change their passwords.
Digital wallets on smartphones are increasingly promoted as a new way to pay for everything from a movie download to a Subway sandwich. For people with iPhones, Apple ID is required to purchase anything from the iTunes store.