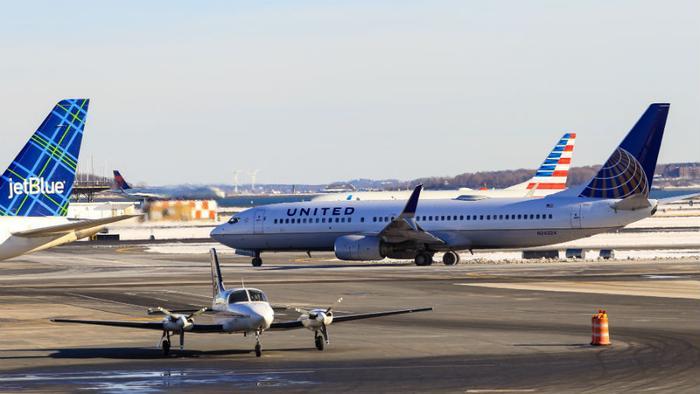 President Trump -- in cooperation with the U.S. Department of Transportation -- issued an emergency order on Wednesday that calls for a nationwide grounding of Boeing's 737 MAX aircraft. The grounding impacts all U.S. airlines, or those in U.S. territories, and will remain in effect pending further investigation, according to the Federal Aviation Administration (FAA).
"The safety of the American people, of all people, is our paramount concern," Mr. Trump told reporters at the White House.
The move reverses a previous decision by U.S. regulators on the heels of deadly crashes involving the same model planes in Indonesia and Ethiopia.
Even though aviation regulators from more than 40 countries had banned flights involving the MAX, the Federal Aviation Administration (FAA) hesitated to make that move, saying it had witnessed "no systemic performance issues" that would precipitate the agency to call off flights involving the jet.
Boeing agrees with the move
Boeing said that it "supports action to temporarily ground 737 MAX operations," in comments to ConsumerAffairs.
"Boeing continues to have full confidence in the safety of the 737 MAX. However, after consultation with the U.S. Federal Aviation Administration (FAA), the U.S. National Transportation Safety Board (NTSB), and aviation authorities and its customers around the world, Boeing has determined -- out of an abundance of caution and in order to reassure the flying public of the aircraft's safety -- to recommend to the FAA the temporary suspension of operations of the entire global fleet of 371 737 MAX aircraft."
"We are supporting this proactive step out of an abundance of caution. Safety is a core value at Boeing for as long as we have been building airplanes; and it always will be. There is no greater priority for our company and our industry. We are doing everything we can to understand the cause of the accidents in partnership with the investigators, deploy safety enhancements and help ensure this does not happen again," Boeing said.
What carriers fly the Boeing 737 MAX?
There are three domestic commercial carriers -- Southwest, American, and United -- that currently have the Boeing 737 MAX as part of their fleet. Southwest has 34, American has 24, and while United doesn't use the MAX 8, it does have 14 MAX 9 models.
In ConsumerAffairs' research, we found that Air Lease Corporation leases the 737 MAX to other carriers such as Spirit and Frontier. ConsumerAffairs reached out to Air Lease for specifics on what airlines it leases the MAX to that might be impacted by the grounding, but had not received comment by press time.
Below are statements from the three affected commercial carriers on the grounding of Boeing 737 MAX aircraft.
Southwest Airlines
"As the investigation of Ethiopian Airlines Flight 302 progresses, we are staying in close contact with Boeing, the FAA, and other airlines to learn the cause of the accident," a Southwest spokesperson told ConsumerAffairs.
"We operate 34 MAX 8 aircraft in our fleet of more than 750 Boeing 737s. We remain confident in the safety and airworthiness of the MAX 8. We don't have any changes planned to our MAX 8 operations."
"Additionally, we are not issuing refunds of non-refundable fares, but we are working with customers individually who wish to rebook their flight to another aircraft type."
United Airlines
"Nothing is more important to us than the safety of our customers and employees," wrote United Airlines. "As we have said since Sunday, we have been in close contact with investigators as well as Boeing to share data and fully cooperate with regulatory authorities. We will comply with the FAA's order and will ground our 14 Boeing 737 MAX aircraft. We will remain in close contact with authorities as their investigation continues."
"Since Sunday, we have been working diligently on contingency plans to prepare our fleet to minimize the impact to customers. Our Boeing 737 MAX aircraft account for roughly 40 flights a day and through a combination of spare aircraft and rebooking customers, we do not anticipate a significant operational impact as a result of this order. We will continue to work with our customers to help minimize any disruption to their travel plans."
American Airlines
"Earlier today the Federal Aviation Administration (FAA) informed us that based on new information, they are grounding the United States Boeing 737 MAX fleet out of an abundance of caution," American Airlines told ConsumerAffairs.
"American Airlines has 24 aircraft affected by this directive. We appreciate the FAA's partnership, and will continue to work closely with them, the Department of Transportation, National Transportation Safety Board and other regulatory authorities, as well as our aircraft and engine manufacturers. Our teams will make every effort to rebook customers as quickly as possible, and we apologize for any inconvenience."
How to find out if you're scheduled to fly on a 737 MAX
To see if your flight is one of the grounded 737 MAX' on American, Southwest, or United, it's best to visit your booking site and look for any related updates. Many times that information is right on the flight information available for print or viewable on a clickable tab (e.g. "Aircraft Information").
It's possible that if you were booked on a MAX, you may have been rebooked on another plane or, perhaps, another flight because of a change in the number of available seats from one model to another. Make sure you note any changes in seat assignments, departure times, connections, and arrival times in those cases.
If you can't find the necessary information on the airline's website, the airlines all post toll-free numbers where you can get the answer you need.
It's important to remember that airlines can change flights at anytime, so double-checking the situation at the airport will not only ensure you're on the right flight but probably relieve you of a little stress.