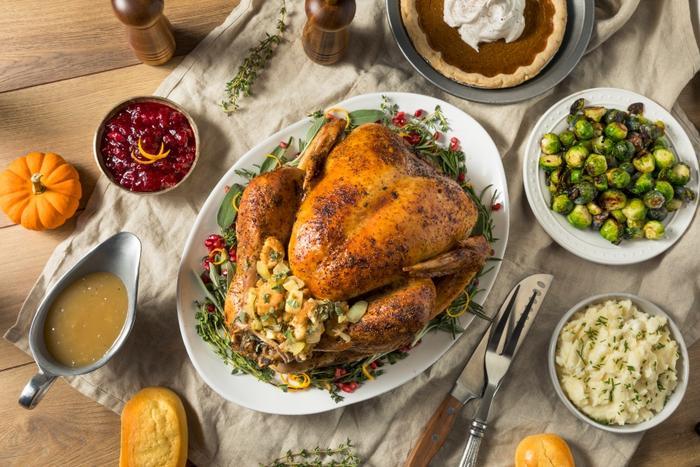 Thanks to the COVID-19 pandemic, the turkey industry's Thanksgiving forecast is anything but good -- and looking at nearly 50 years of steadily growing turkey consumption, about to completely evaporate. 
In a survey of the situation, ConsumerAffairs found several potential trouble spots. For one, turkey farmers are upside down trying to figure out processing plans that the pandemic has cast a shadow over, such as whether Americans will travel home to risk the downside of large celebrations.
Grocers are also shifting toward pre-prepped meals, turkey sold by the pound, and plant-based options. And the industry is overrun with an overstock of large turkeys and not enough smaller-sized turkeys.
There are a myriad of trickle-down effects on the consumer that the turkey industry's trouble spots are causing. Here's how those play out…
Celebration size
One of the major shifts is in celebration size. A spokesperson at Butterball told the Washington Post that it was expecting an upward tick in celebrations, but with "immediate-family-only."
The Post also reported that Butterball's consumer-helping Turkey Talk Line is expecting more incoming calls than ever before because there will be more people making their own turkeys for the very first time.
Demand for plant-based options
Another headache the turkey industry is facing is a downward trend in demand. Normally, more than 45 million turkeys are consumed around Thanksgiving, and that number has nearly doubled in the last 50 years with people eating about 16 pounds each. 
In its analysis of the situation, FoodDive found that the kinds of meals served at the Thanksgiving table are starting to favor plant-based products. Tofurky, a plant-based turkey replacement product, sold 5 million of its vegan Thanksgiving roasts in 2018, and told the Washington Post it already has seen an increase in 2020 Thanksgiving orders. 
And, despite the fact that a turkey is not really a turkey if it's made from a blend of wheat protein and organic tofu, turkey processing kings Butterball, Perdue Farms, and Tyson Foods have all said that they have been working on creating plant-based options for the standard-issue Thanksgiving bird. 
Too many big birds
While U.S. turkey farmers are at their wit's end trying to predict demand and processing schedules, their overriding fear is that they will be stuck with too many big turkeys and not enough small ones, a particularly nasty problem for fresh turkey producers.
For the holidays, turkey producers usually shoot for a mixture of about 80 percent hens (females) which average 16 pounds, and 20 percent toms (males), which grow over 20 pounds. Demand is skewing smaller this year and the bigger the bird, the bigger the problem.
"We didn't have the foresight that there might be changed consumer preferences," Drew Bowman, a turkey farmer who raises 70,000 free-range turkeys annually, told FoodMarket. "And if you're growing a tom, if you kill it early, it's going to be very bony and not appetizing-looking. They don't have a lot of meat on their bones when they are smaller."
Not to worry says the National Turkey Federation
ConsumerAffairs reached out to the National Turkey Federation to get its take on the situation.
"The turkey industry has been working hard to make sure there are plenty of turkey products available for consumers. While celebrations may look a little different this year with more 'first-timers' cooking or a smaller guest list, turkey will continue to be the centerpiece of the Thanksgiving meal," Beth Breeding, the Federation's Vice President of Communications & Marketing, told ConsumerAffairs.
"Some consumers may opt for a smaller turkey or a turkey breast, but we still expect many families to purchase their traditional turkey," Breeding said. "Plus, don't forget about the turkey leftovers and the many delicious uses for any extra turkey!"