---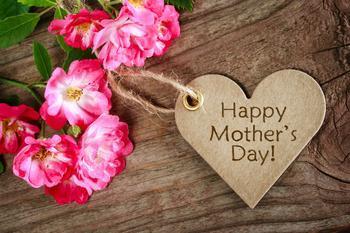 Jewelry, electronics, and special outings are high on the list of ways celebrate Mother's Day this year.
The National Retail Federation's (NRF) annual survey conducted by Prosper Insights and Analytics projects U.S. consumers will spend an average of $172.22 on mom -- almost the same as last year when they shelled out a record $172.63.
That would bring total spending to $21.4 billion, with 84.4% of consumers surveyed paying tribute to their special lady.
"It's clear that Americans want to honor their mothers this Mother's Day," NRF President and CEO Matthew Shay said. "Whether it's a special meal at her favorite restaurant, jewelry or a new smartphone, families are planning to indulge mom again this year."
How and where they'll spend
According to the survey, consumers plan to spend $4.2 billion on jewelry (given by 35.3% of shoppers), $4.1 billion on special outings like dinner or brunch (55.2%), $2.4 billion on flowers (66.5%), $2.2 billion on gift cards (43.2%), $1.9 billion each on clothing (35.4%) and consumer electronics (13.8%), and $1.6 billion on personal services, like a day at the spa (22.5%). Greeting cards are projected to be the most-purchased gift (78.4%) but account for only $792 million of the projected spending.
Consumers were asked for the first time about "gifts of experience," like tickets to a sporting event or concert. According to the survey, 24.2% of consumers would like gifts of this nature and 22.3% plan on giving such a gift.
A plurality (33%) of shoppers will head to department stores and 28.7% to specialty stores and another 23.1% will patronize a local small business.
But not everyone will make it to a store: 27.3 % will shop online and 29.6% will research gift ideas on their phones. Of those who use their phone to research gifts, 15.5% will use them to make a purchase.
"Mother's Day is the time when millions of Americans find special ways to express their love and gratitude for mom," Prosper Principal Analyst Pam Goodfellow said. "While many will spend a little more than usual to pamper her, some consumers will provide unique experience gifts for the entire family to enjoy together."
The survey of 7,000 consumers was conducted April 5-13 and has a margin of error of plus or minus 1.2 percentage points.  
The complete survey is available here.
---