---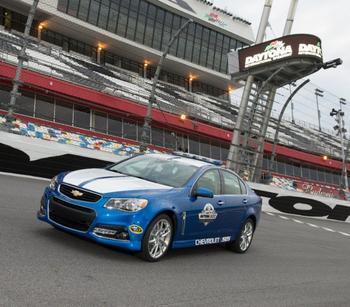 Gentlemen, start your engines. The Chevrolet SS is back and it's a 415-horsepower, rear-wheel-drive V-8, evoking the SS (SuperSports) of old. The 2014 Chevrolet SS will debut this weekend at the Daytona International Speedway as the SS racecar makes its NASCAR debut during the Daytona 500.
"The Chevrolet brand was largely built on the strength of rear-drive performance sedans, yet it's been 17 years since we've offered one," said Mark Reuss, president of General Motors North America. "The comfort, convenience, spaciousness and V-8 power make the SS a total performance package unlike any other on the road today."
The Chevrolet SS is powered by the LS3 Chevrolet V-8, also used in the 2013 Corvette, expected to deliver 415 horsepower and 415 lb-ft of torque. It's married to a six-speed automatic transmission, which can be shifted manually using steering wheel paddles.
With an aggressive 3.27 final-drive ratio, the Chevrolet SS accelerates from 0 to 60 mph in about five seconds – making it one of the quickest sedans on the market, GM said.
The Chevrolet SS shares the rear-wheel-drive architecture that is the foundation for the Camaro, Caprice Police Patrol Vehicle and Holden's VF Commodore, sold in Australia, where the SS will be built.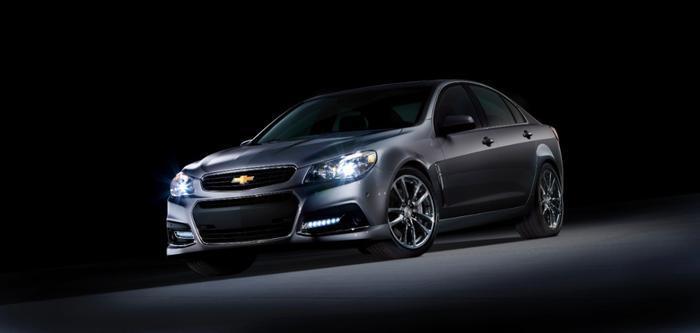 The new SS should please rear-wheel drive enthusiasts who have been mourning the loss of the Pontiac G8, a sedan on the same platform that garnered solid sales and critical praise before Pontiac's demise in early 2010. It will no doubt cause severe indigestion in the eco-conscious -- but come on guys, life can't be all work.
GM says the car's sport-tuned chassis ensures that it will turn and stop as well as it accelerates. Handling is improved by a near 50/50 weight distribution, and a low center of gravity – made possible in part by the aluminum hood and rear deck lid that are 30 percent lighter than traditional steel panels.
"Our goal was to create a car that delivers incredible grip and handling balance while cornering, while still being comfortable to drive on the road," said David Leone, executive chief engineer GM global programs. "The perfect weight balance and lower center of gravity were a big part of that goal because it enabled the team to tune for a more comfortable highway ride without sacrificing handling or driver confidence while cornering at the limits."
The SS isn't expected to be a big seller but is intended to give Chevy a little more street cred with car enthusiasts.
---