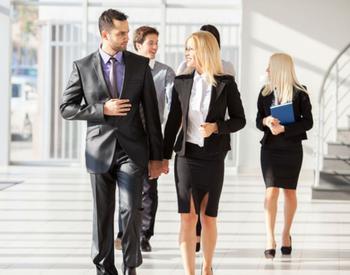 Working in an office comes with certain expectations for employees. More than likely, you'll have to dress in appropriate business-wear, deal with paperwork, and work from your assigned space or cubicle. What many workers might not think about is how much time they may spend sitting down each day.
Studies have shown that these kinds of working conditions can often lead to a sedentary lifestyle, which in turn leads to unhealthy weight gain and a litany of other physical and mental problems. But a new study shows that workplaces can counteract these risks by introducing walking into every business day – namely, by scheduling walking meetings.
"There are limited opportunities for physical activity at work. This walking meeting pilot study provides early evidence that white-collar workers find it feasible and acceptable to convert a traditional seated meeting into a walking meeting," said Dr. Alberto J. Caban-Martinez, principal investigator of the study.
Health benefits
 The study, which was conducted at the University of Miami, took a sample of white-collar office workers and had them wear accelerometers to measure their physical activity for three weeks. These workers were also asked to adopt a "walking meeting protocol," which established a schedule of walking meetings instead of standard seated meetings.
Over the course of the study period, the researchers found that the number of active minutes increased over time for participants, from 107 minutes in the first week to 117 minutes by the third week. This improvement nearly brought workers in line with the American Heart Association's recommendation for moderate-intensity physical activity for adults, which stands at about 150 minutes per week.
The researchers believe that regularly scheduled walking meetings would go a long way towards reducing sedentary behavior and promoting overall health benefits. They note that walking for as little as 15 minutes per day can add up to three years onto a person's life expectancy, a potentially huge payoff for a minimal amount of effort.
"Walking is known to have tremendous health benefits. Having sedentary, white-collar workers consider walking meetings feasible suggests that this intervention has the potential to positively influence the health of many individuals," concluded lead author Hannah Kling.