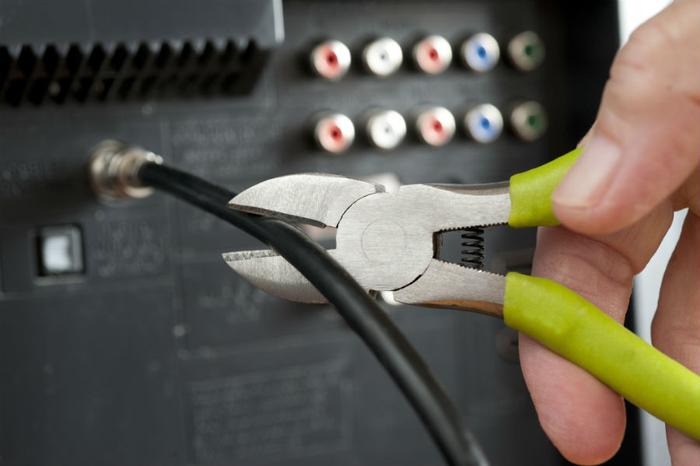 Nearly 3 million pay TV subscribers cut the cord last year, with AT&T'sDIRECTV taking the biggest hit, according to an industry report.
Leichtman Research reports the largest pay TV providers in the U.S. lost 2.8 million subscribers in 2018 as more consumers increasingly turned to over the top (OTT) sources of video services. The numbers are worrisome for the industry since cord-cutting nearly doubled from 2017.
Much of the attrition occurred among satellite TV providers. DIRECTV lost more than 1.2 million subscribers last year, up from 554,000 the year before.
In all, satellite TV providers accounted for the lion's share of cord-cutting, losing more than 2.3 million customers last year.
Cable losses were slightly less
Losses were slightly less among the top six cable TV providers. They shed 910,000 customers last year, an increase over the 680,000 they lost in 2017. Top cable providers together lost 1.9 percent of their customers last year, compared to a 1.4 percent loss in 2017.
There were losses across the board except in the telephone companies' video services. While the overall category lost ground, AT&T's U-verse actually added 47,000 subscribers. The category saw its total losses fall from 885,000 in 2017 to 245,000 last year.
While traditional sources of programming lost customers, internet-delivered sources continued to see gains. The top publicly reporting internet-delivered (vMVPD) services, Sling TV and DIRECTV NOW, added about 640,000 subscribers in 2018. That's significantly fewer than the  1.6 million net adds in 2017.
Lost 3.1 percent of its customers
"The pay-TV market saw net losses increase in 2018.  Overall, the top pay-TV providers lost 3.1 percent of subscribers in 2018 compared to a loss of 1.6 percent in 2017," said Bruce Leichtman, president and principal analyst for Leichtman Research Group.
Leichtman says the pay TV industry peaked in the first quarter of 2012. Since then, he says about 6 million consumers have cut the cord.
"This reflects a decline of about 10,000,000 subscribers for traditional services, offset by the addition of about 4,000,000 subscribers for the publicly reporting vMVPD services," he said.
The three largest cable companies lost 730,000 customers last year. Comcast lost 371,000; Charter lost 244,000; and Cox lost 115,000 subscribers.