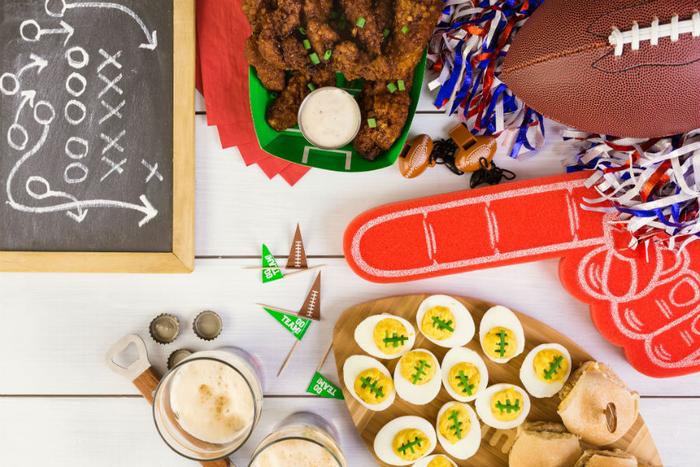 Ahead of Super Bowl LII, General Mills has released a list of the most popular Super Bowl foods by state.
This year's list of the most searched-for Super Bowl dishes includes many traditional game day favorites, like wings and chili. But many game day revelers are planning to serve their guests something a little more unique.
"You'll see your usual suspects and game day favorites like chili, pulled meat sandwiches, dips, wings and snack options," said Audra Carson, head of content marketing and media platforms at General Mills.
"But this year, we're seeing more soups on the list than ever before, ranging from cold-weather favorites like White Chicken Chili and Potato Soup to some more unique flavors like Dill Pickle Soup in Kansas," she said.  
Popular searches
Chicken wings were the most searched-for Super Bowl food in California, Connecticut, Nebraska, and New York, while chili was the most popular search in Arizona, New Hampshire, New Jersey, and Rhode Island.
Regional affinities were also seen in many states' most searched-for Super Bowl recipes. Consumers in Minnesota searched for Tater Tot Casserole, while those in Maine looked up Clam Dip recipes. Buffalo Wings were a popular search in New York.  
Other top Super Bowl recipe searches across the country include:
Alabama -- Mississippi Roast

Kansas -- Dill pickle soup

Ohio -- White chicken chili

Colorado -- Taco Pie

Indiana -- Root Beer Chicken

Delaware -- Butter Cake Bars
Recipes
The most searched-for Super Bowl recipes in the two states whose teams are playing in the big game this year were Buffalo Chicken Dip (Massachusetts) and Potato Soup (Pennsylvania).
To whip up a pie plate full of Buffalo Chicken Dip yourself, all you'll need is 35 minutes and the following ingredients:
2 (8 ounce) packages cream cheese, softened

1 cup ranch dressing

3⁄4 cup red hot sauce

1 (10 ounce) can chicken, drained (or equivalent rotisserie or freshly-cooked, chopped chicken)

Shredded cheddar cheese (you decide how much)

Frito corn chip, scoops, or preferred chip
After beating together the cream cheese, ranch dressing, and red hot sauce, fold in your shredded chicken. Then, spread the mixture into a pie plate sprayed with cooking spray and bake at 350 degrees for 15 minutes. Add cheddar cheese to top, bake for an additional 10 to 15 minutes, and serve hot with your choice of chip.
Here's a recipe for a creamy potato soup that yields five servings.