Before the rise of digital and social media, brands could easily control their image by spending money on advertising. Less-informed consumers based their opinions of companies on the ads they ran, and if nothing too egregious came up in the news, that view could be mostly positive.
However, things are a little bit different now. Consumers face a barrage of news every day from traditional and social media sources about what companies are doing, and all that chatter greatly informs public opinion.
Companies can still try to improve their image through advertising, but too much negative press will now warp consumers' brand perception regardless of how much money is spent. To illustrate the point, researchers at YouGov conducted a survey to see which brands improved and which declined in consumers' eyes in 2016. The results were compiled from 1.2 million consumer interviews covering 1,500 different brands, with scores ranging from -100 to 100. The questions were designed to make participants consider all news sources.
"We poll people to consider advertising, but also what they've heard in the news media and social media, so it's very broad," said YouGov CEO Ted Marzilli.
Most improved brands of 2016
Marzilli points out that improvements in brand perception don't necessarily indicate that a company is perceived positively by consumers.
For example, the most improved brand on YouGov's ranking is RadioShack, which improved from a -8.2 score in 2015 to a -1.6 score in 2016. 2015 was a particularly bad year for the top performer due to its highly publicized bankruptcy and the closing of over 1,800 stores. Similarly, extremely negative perceptions of customer service in 2015 put Comcast's rating at -6.4, but a lessening of consumer tensions on that front brought it up to -2.2 in 2016.
However, other companies on the top 10 list are seeing solid, positive growth in brand perception. Ride-sharing service Uber came in second on the list, rising from a 0.2 score in 2015 to a 4.6 score in 2016. Facebook continued to climb in consumers' esteem, rising 3.9 points year-over-year, and Nike improved 3.1 points to a score of 19.0. The full top ten list can be seen below.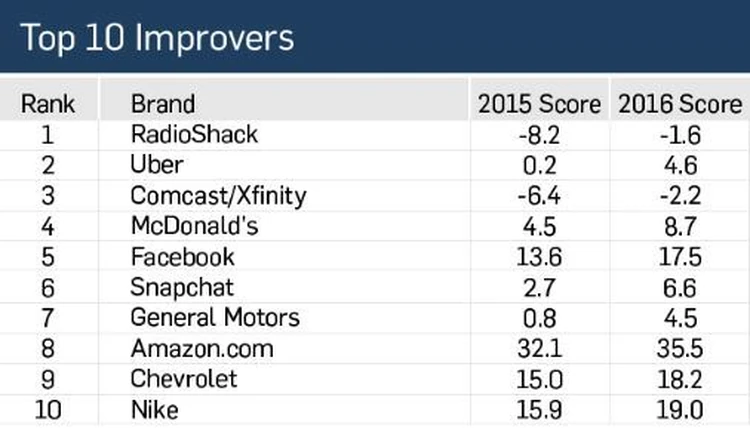 Biggest brand busts of 2016
The companies with the worst brand perception in 2016 all suffer from negative news that came out about them in the past year or so. The biggest drop came from Chipotle, which went from a 4.2 score in 2015 to a -8.1 score in 2016, mostly due to the E. coli and food safety scandals it suffered through.
Wells Fargo came in second on the list, dropping from a score of 2.6 in 2015 to -8.2 in 2016 – due most likely to the scandal that involved millions of fake customer accounts. Wells Fargo Advisors came in fifth on the list, dropping from a score of 1.6 to -4.2.
Samsung came in third on the list after it was discovered that its new Galaxy Note 7 phones had a tendency to catch fire, dropping from a score of 22.8 in 2015 to 15.1 in 2016. Trump Taj Mahal came in at fourth on the list after it shut down in October, falling from a -3.2 score in 2015 to -9.7 in 2016. However, negative views of Donald Trump and his political run for president likely affected the score. 
------------------ 
Note: An earlier version of this story mistakenly connected Chipotle with ebola. This has been corrected to E. coli.