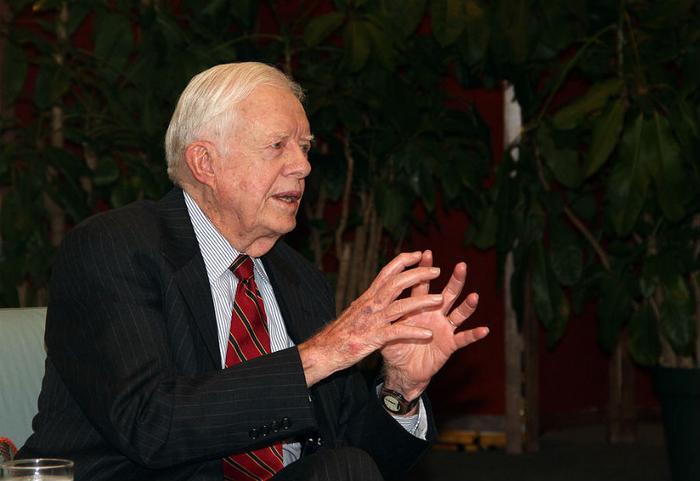 In August, doctors gave former President Jimmy Carter what amounted to a death sentence. A rare form of melanoma had started in his liver and spread to his brain.
Over the weekend, Carter stunned the medical world by announcing that he is now cancer-free.
How did he do it? The brief statement from the Carter Center revealed he has been receiving a new immunotherapy drug called pembrolizumab.
As we have previously reported, immunotherapy is a recent cancer treatment trend in which doctors use forces within a patient's own body to fight the disease. According to the American Cancer Society, immunotherapy stimulates the patient's immune system to work harder, or smarter, to attack cancer cells, or it might introduce man-made immune system proteins to strengthen the immune system.
Humanized monoclonal antibody
Pembrolizumab, the drug Carter received, is an example of the latter type of immunotherapy. It is a humanized monoclonal antibody injected into the patient to strengthen the immune system. The drug won Food and Drug Administration approval in September 2014.
Image Guided Cancer Specialist (IGCS), a Florida medical group specializing in the treatment of cancer using the combinations of immunotherapy with image guided ablation, calls the immunotherapy Carter received "one of the greatest advances in cancer treatment."
But while these treatments are true miracle drugs, IGCS cautions that the cost is a real concern. It says the average cost for using these drugs in combination at a standard dose is about $300,000 per year. The higher doses being used in the current research could mean that figure might climb to $1 million annually.
Skyrocketing costs
Dr. Leonard Saltz, an oncologist at Memorial Sloan Kettering Cancer Center in New York, is on the record with his concerns about skyrocketing costs for miracle drugs.
"The typical new cancer drug coming on the market a decade ago cost about $4,500 per month (in 2012 dollars); since 2010 the median price has been around $10,000," he wrote in a 2012 op-ed in The New York Times. "Two of the new cancer drugs cost more than $35,000 each per month of treatment."
At a recent American Society of Clinical Oncology Meeting, Saltz estimated the total cost to treat all metastatic cancer patients in the United States would be an "unsustainable" $174 billion per year.
IGCS said it is working on ways to reduce costs. It says one of its researchers, Dr. Jason Williams, has suggested the immunotherapy drugs directly into the cancerous tumor and combine it with image-guided cryoablation.
Lowering the cost of treatment, IGCS says, could make it accessible to more patients.