---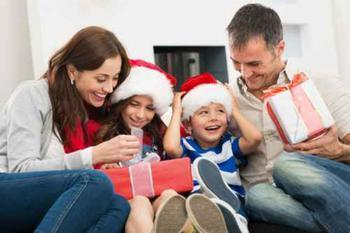 From pre-ordering the year's most wanted toy to making sure Santa has been informed of every item on their child's wish list, parents often do everything they can to make their children's holiday dreams come true. But a new survey finds that parents often overextend themselves financially on the quest to fulfill their child's holiday wish lists.
The survey, conducted by investment firm T. Rowe Price, finds that more than half of parents make it their mission to get everything on their child's wish list no matter what the cost. In fact, 25% of parents draw funds from their 401(k)s or their emergency funds while checking off their child's wish list.
Additionally, the survey found that 64% of parents agree with the statement, "I spent more over the holidays than I should have." The average amount parents spent on children between ages 8 to 14 was $422, although 34% of parents spent $500 or more.
But dipping into savings in order to make sure kids have the best holiday possible can have a long-term impact, says Marty Allenbaugh, a financial planner at T. Rowe Price.
Potential consequences
"Retirement accounts are meant to fund retirement. Emergency funds are meant to fund emergencies. Payday loans should be the last of last resorts. Nothing that comes wrapped in a ribbon is worth the consequence of bending these rules," said Allenbaugh.
If a 35-year old parent pulls from his or her retirement savings to cover $500 in holiday spending, Allenbaugh says this could translate to a loss of nearly $6,000 at retirement.
Instead of risking your financial well-being by sparing no expense during the holidays, parents should consider teaching kids about the importance of prioritizing wants and making trade-offs. Doing so doesn't necessarily mean your child will have a less magical holiday.
What to do instead
Teaching your child about money matters can be an investment in their future, says T. Rowe Price. Parents can find online games designed to teach kids about financial goal setting, spending versus saving, and other important financial concepts at MoneyConfidentKids.com.
Parents can also find
tips
on helping kids work within a budget and use monetary gifts wisely. For example, if kids receive money during the holidays, parents can propose saving some of the money and using the rest to buy a gift.
---