---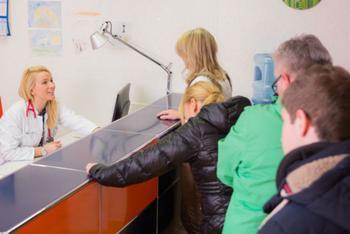 How hard is it to see a doctor? It all depends on where you live and what your circumstaces are. Demographic factors have produced a large number of doctors at retirement age. Others have set up concierge practices that require patients to pay an annual fee to receive treatment.
A 2012 study by the physician recruiting firm Merritt Hawkins found that, even then, more than half of doctors had limited Medicare patient access to their practices. One out of four no longer took on Medicaid patients.
For a while now, healthcare policymakers have been warning that the U.S. could face a shortage of primary care physicians in the next few years.
IHS Inc., an economic forecasting firm, issued a report commissioned by the American Association of Medical Colleges, looking at physician supply and demand between 2013 and 2025.
It broke the results down by four specialties: primary care, medical specialties, surgical specialties, and "other" specialties.
Supply and demand
Early in the study cycle, it finds that demand for physicians is growing faster than supply. Even though the supply of available doctors is projected to grow modestly between 2013 and 2025, demand for their services will grow even faster.
The report projects that demand for physicians will grow by up to 17%, triggered by a population that is both growing and aging.
The fact that more people are covered by health insurance under the Affordable Care Act (ACA) accounts for only a 2% increase in demand, the researchers found. Other studies have shown that many newly covered consumers don't seek medical treatment, due in part to high deductibles.
The authors warn that by 2025, anywhere from 46,000 to 90,000 more consumers will be seeking medical treatment than there are doctors to treat them. Total shortages in 2025 are expected to vary by specialty grouping. They include 12,500 to 31,100 fewer primary care physicians, 5,100 to 12,300 medical specialists, 23,100 to 31,600 surgical specialists, and 28,200 and 63,700 non-primary care physicians.
Can't wait
The report's authors suggest a multi-pronged approach to addressing the shortfall. Innovation in delivery of services could help, they say, such as greater reliance on technology.
In the end, the authors believe that no single solution will be sufficient. And because it takes so long to train a physician, the problem needs to be addressed now.
Until that happens, walk-in clinics and urgent care facilities may take up some of the slack. But the Urgent Care Association of American says these stand-alone medical facilities should not take the place of ongoing primary care, but rather should be considered a bridge for patients between health care providers.
---