---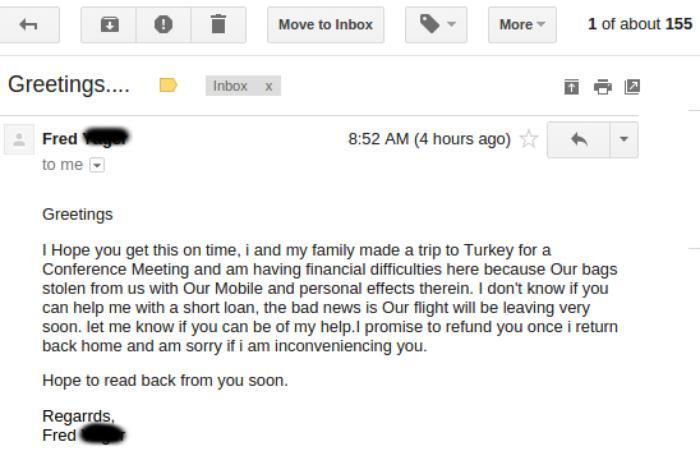 If you have an email account, it's pretty much guaranteed that sooner or later you'll receive a vaguely addressed and poorly written message, supposedly from a friend, relative or someone else who has your email in their address book, claiming to be in deep trouble and begging you for money to help them get out. (Indeed: chances are you've already received dozens, if not hundreds, of these messages — but for the sake of this hypothetical let's pretend that you, Fearless Reader, just got your first-ever email account today.)
Sometimes the senders of those messages claim to be stranded in a foreign country, after thieves stole their money and passport. Other times they'll say they're stranded in another state, after their car broke down in Sticksville and they can't afford repairs. Or perhaps they say they've been arrested for some petty offense, and need money to bail themselves out of jail.
Whatever that email says, it's almost certainly a scam. Sometimes it's called the "Grandma scam" or "Grandparent scam," because the scammers often claim to be the victims' grandchildren in need of emergency help, but the grandparent scam is merely one variation of what's better known as an "imposter scam": you think it's a friend or relative who contacted you, but it's actually an imposter.
It's a big-enough problem that last summer, the U.S. Senate's Special Committee on Aging held hearings about it, and collected heartbreaking (and all-too-typical) testimony from various victims such as "Roger W." (his full name is being withheld for fear additional con artists will seek him out): in December 2013, Roger, who was 81 years old at the time, got a call from a scammer claiming to be his grandson.
Supposedly, the grandson had been arrested for speeding and drug possession, and needed bail money. Roger and his wife eventually bought and sent $7,000 worth of prepaid (and untraceable) money cards before finally contacting their actual grandson on the phone and learning he was fine – no speeding tickets, no arrests and certainly no calling his grandparents to request thousands of dollars in bail money.
Imposter scams
Imposter scams conducted over email are even more commonplace, because a typical person can only make one phone call at a time, whereas the number of emails you can send out at once is nearly endless. Here's a missive ConsumerAffairs' editor just received today, supposedly from a former contributor who wrote for us a few years ago:
Subject: Greetings

I Hope you get this on time, i and my family made a trip to Turkey for a Conference Meeting and am having financial difficulties here because Our bags stolen from us with Our Mobile and personal effects therein. I don't know if you can help me with a short loan, the bad news is Our flight will be leaving very soon. let me know if you can be of my help.I promise to refund you once i return back home and am sorry if i am inconveniencing you.

Hope to read back from you soon.

Regarrds,

[Name]
Chances are this email sounds familiar because you've received similar ones, with only slightly different details: last year we got a message supposedly from a realty agent with whom we had a slight acquaintance, claiming to be trapped in Italy rather than Turkey.
If you receive such a scammy message, the safest and simplest thing to do is simply delete the email. If you're worried that the supposed sender actually is someone you know and care about, stranded overseas (or wherever) without any money, then you can take steps to call or contact that person through your regular communication channels – i.e., call your grandson, or the police department who claims to have arrested him, before giving any money for supposed bail payments. (If you don't have any "regular communication channels" with that person – say, because the email supposedly came from a realty agent you haven't spoken to since you rented that apartment from her several years ago – then go back to "delete the email.")
And remember this anti-scam rule: ignore any request for money or payment in cash, or via a wire transfer or prepaid money card – in other words, any request for money that is untraceable once it's sent.
---