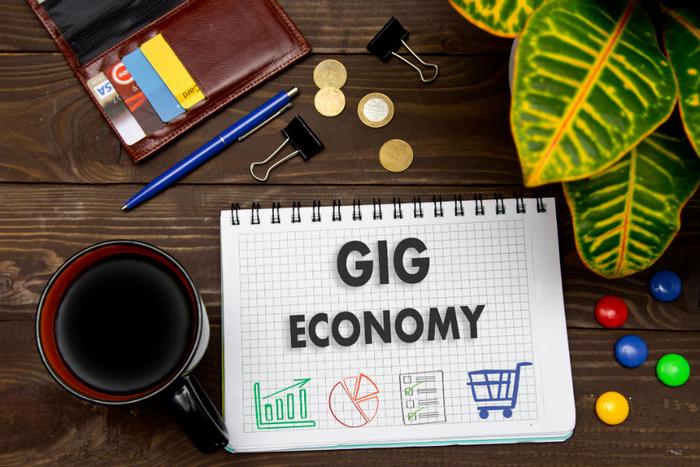 On Thursday, the Bureau of Labor Statistics released it's first in-depth look at non-traditional work in the United States since 2005. It found that traditional jobs still reign supreme.
For years, Americans have taken advantage of the rise of freelance work and the perks that come along with it -- such as a flexible schedule. This caused policymakers to worry that the traditional workplace, and the associated benefits, would disappear. Proponents and critics have continued to argue over the merits of this "gig economy," despite an apparent lack of data.
Based on the survey's results, only around 10 percent of Americans in 2017 were employed by what the government calls "alternative working arrangements." This revised number is actually a decline from 2005, when 11 percent of workers worked in an occupation that's part of the gig economy.
"I think everybody's narrative got blown up," said Michael R. Strain, director of economic policy studies at the American Enterprise Institute.
A look inside the survey
Despite what appears to be a drop off in alternative working arrangements, Strain noted various factors the survey didn't take into consideration.
For starters, the government's numbers don't include people who do gig or freelance work to supplement traditional work. The survey also doesn't consider those who participate in income-generating endeavors, such as renting their homes on Airbnb, which wouldn't necessarily be considered work.
A survey done by the Federal Reserve in late May found that nearly one-third of Americans are performing some kind of gig work, either exclusively or in addition to traditional work.
The Bureau of Labor Statistics' survey also didn't factor in companies that subcontract work to employees. In those cases, those employees aren't considered to be alternative workers, but they do earn less and receive smaller benefits.
"The questions on our standard surveys don't probe into the nature of these arrangements," said Katherine G. Abraham, a University of Maryland economist who served as commissioner of the Bureau of Labor Statistics under Bill Clinton. "We're not asking the right questions, and they're hard to answer anyway."
Abraham noted many employees tend to struggle to classify the work they do. She said that some Uber drivers might consider themselves employees of the company itself, though they are legally identified as independent contractors. However, she also mentioned that if alternative work was really on the rise, it would've shown up in this latest survey.
"The fact that our last data point on this was in 2005 makes it so hard to figure out what's going on," said Martha Gimbel, director of economic research for Indeed. "Measurement is important, and this is why it's important to fund data analysis."
The gig economy in recent news
Despite this latest survey finding a slight decline in alternative workers, a 2016 report from the Staffing Industry Analysts (SIA) found that employers spent $729 billion on contract workers in 2015, with 29 percent of all U.S. workers performing some kind of gig work that year.
Betterment -- a financial services company -- released a survey in May that showed how the gig economy could potentially change the look of retirement for many people.
Sixteen percent of survey participants said they would continue in the gig economy after a traditional retirement age. Additionally, many of these individuals find that working in the gig economy is a good way to supplement their income to save for retirement.
"One in five full-time giggers say they'll continue to pick up incremental work as their main source of income following retirement," the authors of the survey wrote. "Twelve percent of side-hustlers will keep a side job as their main source of income after retiring from their traditional nine-to-five."
Also this May, Senator Bernie Sanders and Representative Mark Pocan proposed legislation that they say would strengthen the middle class by severely limiting the gig economy. The lawmakers' goal is to "restore workers' rights to bargain for better wages, benefits and working conditions."
As of right now, the bill is simply an idea for the future; it has garnered much support from various labor unions, but it is opposed by many Republicans.