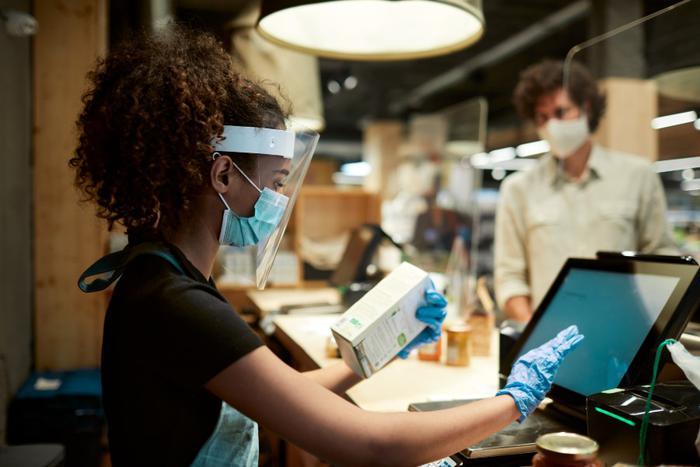 The economy continued to add jobs in July, but it was at a much slower rate than in May and June. The Labor Department reports that there were 1.8 million new jobs last month, slightly better than most economists expected.
The unemployment rate fell to 10.2 percent as job growth was reported among all racial demographics and among both men and women.
The number of unemployed workers on temporary layoff fell by 1.3 million in July to 9.2 million, about half its April level. The number of permanent job losers and the number of unemployed reentrants to the labor force were virtually unchanged over the month, at 2.9 million and 2.4 million, respectively. 
"The rate of recovery in the labor market slowed in July, as job growth over the month was less than half that for June," said William Beach, commissioner of the Bureau of Labor Statistics. "As of July, total nonfarm employment is 12.9 million, or 8.4 percent, lower than in February, before the pandemic crisis unfolded in many parts of the United States."
Leisure and hospitality lead the way
In July, the leisure and hospitality sector — perhaps the hardest hit by the pandemic and the resulting economic shutdown — continued to bounce back. New jobs in that sector rose by 592,000, accounting for about a third of the month's overall job gains.
Despite those gains over the last three months, the number of jobs in food services and drinking places is down by 2.6 million since February. There was significant growth, however, in employment in amusements, gambling, and recreation, with more than 100,000 new jobs.
Jobs also continued to return to the business and professional services industry, to government, and to health care. There were smaller gains in manufacturing and construction.
Retail, another sector hard-hit by the pandemic, continued to add jobs last month as more stores reopened. Retail added 258,000 jobs, but employment in the industry is 913,000 lower than in February.
In fact, it's sometimes hard to remember that the unemployment rate in February was near a record low of 3.5 percent. 
"On balance, we're still in a hole," Julia Coronado, an economist at MacroPolicy Perspectives, told The Wall Street Journal. "The pace of recovery has really been set back by the resurgence of the virus. Given how far we have to go to re-employ the people who have become unemployed, that's very discouraging."