---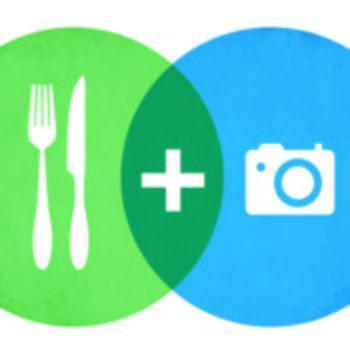 Taking a picture of your food before you eat is extremely commonplace nowadays, as capturing a meal before diving into it has become a daily ritual for many. Some say all of this food sharing is entertaining and others say meals should be eaten not photo'd.
Some take these pictures so they can share the joyous occasion of eating a yummy plate of food with a fellow foodie, and others play Gordon Parks with their meal to document the moment, so it can be experienced in the future--at least visually.
But a good number of people today snap pictures of their meals for other reasons, and they use a variety of apps to help them either lose weight, control bad eating habits or get a better idea of what things they need to change in order to eat healthier.
Take the "The Eatery" app for example, that allows users to take pictures of each meal and provides feedback in terms of how those meals are contributing to overall weight gain or loss.
The app also lets you know what specific foods aren't allowing you to reach your dietary goal and points out the times of day that seem to challenge you the most when it comes to eating better.
Picks out patterns
The creators of The Eatery say the app differs from others that people use today, because it focuses less on the calories and measurements and instead uses photos to point out bad dietary patterns that you might not realize you have.
Apparently, the best way to reach consumers is through their mobile device these days, so there's no surprise that dieting has gone digital just like everything else. It makes one wonder how people were inspired to eat healthier before these apps and healthy living websites came along.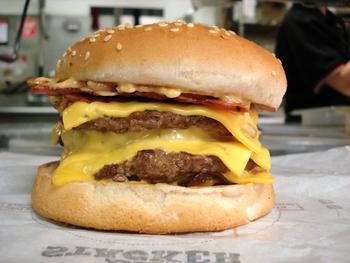 Was it the random highway billboard that reminded us to put down that greasy burger before apps took over? Was it the sporadic TV commercial or public service announcement that we came across that nagged us to eat better? Or maybe our spouses or significant others nagging us?
It seems with all of the new research findings, health warnings and suggestions coming via the Internet these days, using your mobile device for dieting will soon be just as conventional as using a piece of exercise equipment or a personal trainer.
And Massive Health—the company that created The Eatery app—says providing people with deeper insight into themselves, as well as their eating habits, will allow folks to have a better chance of modifying unwanted food behaviors.
Since we're now living in a digital society that counts heavily on visual stimulation through handheld electronics, using photos as both inspiration and a perpetual reminder to alter bad food patterns makes extremely good sense.
Just snap a pic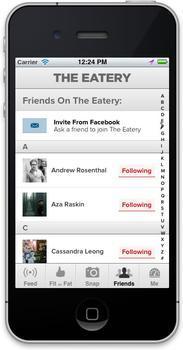 To use The Eatery, users just snap a picture of each meal—which many people do anyways—and rate it whether it's "fit or fat." The app will then give you guidance on where to make changes, and also give feedback about the time of day you choose to eat bad foods.
Massive Health says it uses crowd-source feedback from people chosen by the company, to help you along your dietary journey, so you're not just guessing about what to tweak in your meal regimen.
And by users being able to see all of their meals, snacks and beverages in one place, it'll be much easier to see problem areas or negative patterns, like being able to see how many slices of bread you've eaten in a given week or how many sugar-loaded cups of coffee you had in two months' time.
And just like every other company and brand these days, The Eatery uses Facebook to include the obligatory social network component to help keep users motivated.
The logic here is that by allowing your friends and followers to see everything you're eating--while they're also being advised of what you're trying to accomplish--you'll be provided with more motivation that could go a long way in getting you to your goal.
Also, if users know their followers will see everything they're eating, maybe they'll be more mindful of eating better, if for no other reason than sheer embarrassment -- not wanting to appear like an undisciplined glutton who only likes the unhealthy stuff.
The company also says that being able to see everything you consumed over a long period of time, like in a course of several months let's say, you'll be able to see your progress and also be able to view any transgressions.
"Studies show that simply recording your meals helps you lose more weight," says Massive Health on its site for the app. "It's not about counting calories, it's about becoming aware of your habits."
It's apparent that Massive Health also feels that by being able to record all of your meals over a course of time, you will naturally draw useful conclusions about why you eat certain foods, and why you choose to eat them at certain times.
Probably the most challenging thing about using The Eatery app is having to take a photo of everything you eat.
For those who aren't accustomed to this, taking all of those photos could get annoying, but for those who happen to be unpaid food journalists already, this app may be right up your alley.
---