---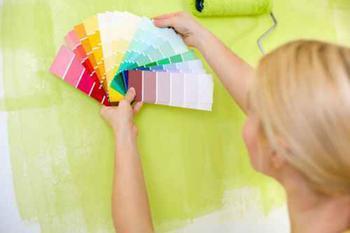 Planning on selling your home? If so, it might be time to break out the paint bucket and rollers; a new survey finds that homes with white walls sell for less.
According to an analysis by Zillow Digs, homes with kitchens that are painted yellow or green can sell for as much as $1,300 more.
Two shades in particular -- wheat yellow and sage green -- resulted in homes going for as much as $1,360 more than expected. Dove gray was also a common thread in the site's top-performing listings.
But while modest, earthy tones may add value, certain colors may actually detract value.
Colors that deter buyers
Homes with dark walls, such as those painted slate gray or terracotta, sold for as much as $1,100 less than expected.
The absence of a paint color also didn't do any favors for a home's ultimate sale price; white or eggshell-colored kitchens tended to go for less than expected.
Tastefully painted walls can often help potential buyers see your home as their future home. But in order for this tactic to work, experts say it's best not to let your personal style have too much influence on your color choice.
Colors with mass appeal
You might be smitten with bright turquoise, but there's no guarantee that your home's future inhabitants will be. To improve the odds of your painting effort paying off, steer clear of style-specific colors and go for the guaranteed crowd pleasers.
Colors with mass appeal include warm neutrals like yellow or light gray, says Svenja Gudell, Zillow chief economist, in a statement.
These colors, Gudell adds, can help signal that the home is well cared for. Additionally, clean and stylish wall colors can help convince buyers that the previous owners had an eye for design that may translate to other areas within the home.
Paint color and effect
Not sure what to color to choose? Check out these examples of paint colors and their impact on a home's expected value. Zillow has broken down the list by room type, paint color, and how much more or less it caused the homes to sell for.
Kitchen. Cream or wheat-colored yellow, $1,360 more
Kitchen. Off-white or eggshell, $82 less
Bathroom. Oatmeal or beige, $283 more
Bathroom. Dark brown, $469 less
Bedroom. Light green to khaki, $1,332 more
Bedroom. Dark brown, $236 less
Dining room. Mauve, eggplant, or lavender, $1,122 more
Dining room. Slate or dark gray, $1,112 less
Living room. Dove or light gray, $1,104 more
Living Room. Terracotta, $793 less
---