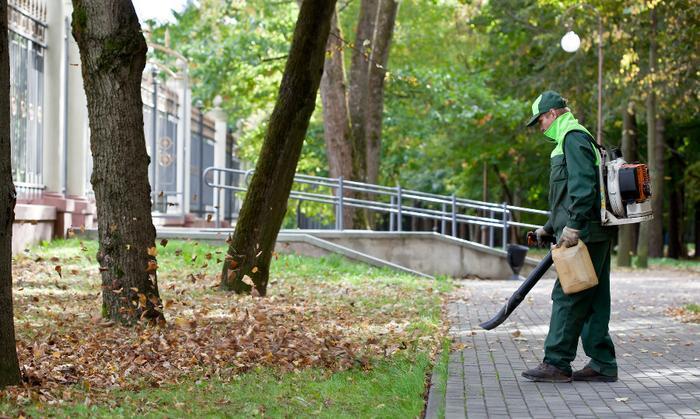 There is nothing like diving into a big pile of leaves on a crisp fall day, it's actually one of my favorite memories as a child. As an adult you want to blow those leaves around and get them off your grass and walkways.
The way most people do that is with a leaf blower. The beauty of a leaf blower is it has a few uses that go beyond what you may think.
The blowers are also useful for removing grass clippings, blowing dirt off farm or construction equipment and removing garbage or debris from parking lots and sidewalks. Leaf blowers can even remove light, fluffy snow under relatively calm conditions.
OK, so a leaf blower is a good investment, one that will make your life easier. So, what kind to buy?
There are a few types. Electric blowers are usually a little lighter and for smaller areas. Sometimes they call these lighter models sweepers. You will find the electric blowers a little quieter as well. Some have cords and some are cordless. Be familiar with power cord safety.
Gas blowers give you a little more mobility and are for larger jobs. Gas blowers have a manual pull-start. Some models will crank with an optional, powered device that you purchase separately, eliminating the need for using the pull-cord.
The gas blower comes with a couple of options -- the back pack which is the look similar to Ghost Busters, suitable for prolonged use and large areas. Then there are the walk-behind blowers -- gas-powered, wheeled models suited for heavy, extended use or commercial applications.
Some of these convert to vacuums. But don't think about lugging it into the house to give a few rooms a once over. It's full of gas remember? The vacuums will collect light landscape debris like small twigs or leaves in an attached bag. Blowers that convert to vacuum/mulchers not only vacuum up these debris, but also mulch them. These vacuum/mulchers grind up the debris, reducing multiple bags to a single bag, creating mulch for use around the yard or simplifying disposal.
What to look for
Some features you may want to look for:
dBA (decibels) measures noise level. The lower the number, the quieter the blower will be. They have a reputation for being very loud.

Know your speeds. Speed settings allow you to control the airflow and movement of debris. Some blowers have variable speed controls, while others have fixed settings.

Run time converts to how long a cordless blower can run before you have to recharge the battery.

Know about your engine cycle there are 2 different types: 

2-cycle engines operate on a gasoline/oil mixture while 

4-cycle engines eliminate the need for mixing oil and gas.
Before you decide to blow a few bucks on a leaf blower check and make sure they are legal in your area. Some communities have banned blowers entirely; others restrict their use to certain times or disallow blowers above a certain decibel level.