---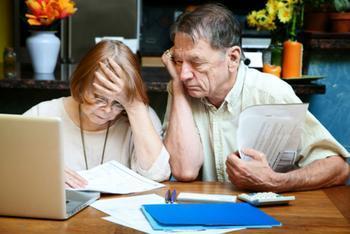 Retirement is a huge adjustment in life, but surveys have shown that many Americans are entering that phase of life with a significant amount of debt.
While retirement planners usually focus on how much someone has saved for retirement, some aging experts worry more about how much debt retirees have accumulated
The Washington Post recently reported that consumers carrying mortgage debt into retirement amounts to a ticking time bomb, with the percentage of people carrying a mortgage into retirement rising from 22% in 2001 to 30% in 2011.
But data shows retirees are also burdened with other kinds of debt, in particular credit card debt. The National Council on Aging (NCOA) recently surveyed aging network professionals on their clients' debt, with 72 professionals taking part in the survey.
Medical debt is the biggest worry
According to the survey, these professionals most frequently encounter clients struggling with unmanageable medical, credit card, mortgage, and utility debt or missed payments. More than half said medical debt was the biggest impediment to financial security.
"Household borrowing in the United States has increased exponentially in the past few decades, while real compensation has remained stagnant, the report's authors wrote. "Senior households have been far from immune to this alarming trend."
Goverment statistics show that the share of senior households with any debt rose from 44.4% in 1989 to 61.3% in 2013.
Increasingly, senior households are carrying a lot more credit card debt than in the past. The NCOA report shows balances have risen since 1981. The median credit card balance in a household headed by someone age 60 or older hit $3,000 in 2007, at the start of the Great Recession.
Credit card debt
Credit card debt is now the second largest financial concern for seniors, right behind medical bills and just ahead of paying the utility bill.
According to New Retirement, people nearing retirement should make it a priority to pay off credit card debt before they stop working. It even suggests tapping into savings to pay off debt, the rationale being that the interest on the debt far outweighs anything the savings can earn.
Perhaps the fastest way to pay down credit card debt is to roll the high interest balance onto a card that offers a lengthy introductory period of 0% interest. We recently reviewed two cards – Citi Simplicity and Citi Diamond Preferred – that are good choices.
---