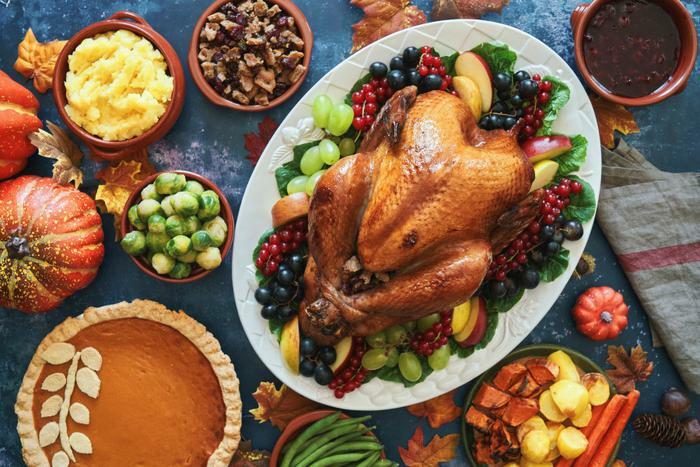 A traditional Thanksgiving dinner will cost quite a bit more than last year, according to a survey by the American Farm Bureau Federation (AFBF). 
As we reported this week, the price of turkeys has risen because of supply and demand issues. But the federation's survey shows that the cost of the entire meal is up 14% over 2020, more than twice October's inflation rate.
Farm Bureau "volunteer shoppers" visited grocery stores and checked prices Oct. 26 to Nov. 8, about two weeks before most grocery store chains began featuring whole frozen turkeys at sharply lower prices. 
They found that a frozen turkey costs more than last year, at $23.99 for a 16-pound bird. That's roughly $1.50 per pound, up 24% from last year. The survey did find that many supermarket chains put frozen turkeys on sale closer to the holiday. Consumers who shopped during the week of Nov. 5-11 paid only 14% more for a bird.
Side dishes also cost more
Other parts of the typical Thanksgiving spread will also cost more in 2021. Prices of sweet potatoes, rolls with butter, peas, cranberries, a veggie tray, pumpkin pie with whipped cream, coffee, and milk are all higher to some degree this year.
For example, the cost of pie crusts has risen 20% and dinner rolls are up 15%, at $3.05 for a dozen. The price of stuffing is the only item that costs less than last year, falling 19%.
The survey found that removing turkey from the meal reduced the cost increase to less than 7%. The average price of a typical Thanksgiving dinner was calculated using 2018 surveys with pricing data from all 50 states and Puerto Rico.
"Several factors contributed to the increase in average cost of this year's Thanksgiving dinner," said AFBF Senior Economist Veronica Nigh. "These include dramatic disruptions to the U.S. economy and supply chains over the last 20 months; inflationary pressure throughout the economy; difficulty in predicting demand during the COVID-19 pandemic and high global demand for food, particularly meat." 
Changes in consumer behavior may also contribute to a more costly Thanksgiving meal this year. During the pandemic, people dined at restaurants less and ate meals at home more than in years past. Nigh says that behavior put pressure on supermarkets, leading to prices that are higher than they were before the pandemic.