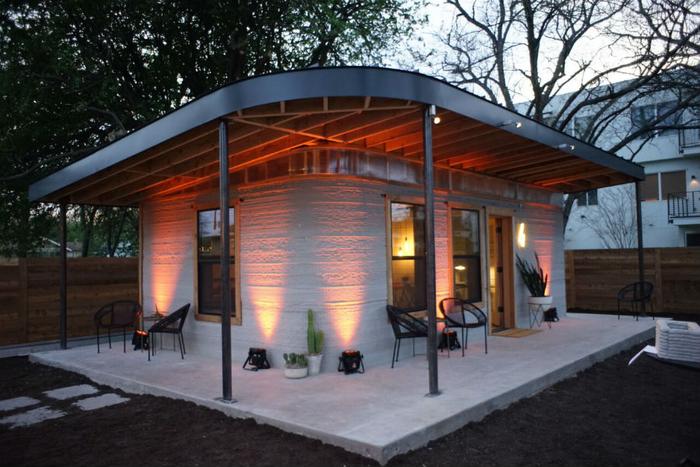 ICON, a Texas-based construction technology company, has made a breakthrough in affordable housing by 3D "printing" a single story, 600-800 square foot home in under 24 hours for less than $4,000.
The company demonstrated its innovation in Austin at SXSW's annual Interactive Festival, constructing their prototype in real time.
ICON's zero energy, thermally efficient model features a living room, bathroom, bedroom, a study that could double as a second bedroom, and a wraparound porch. The company's co-founders told The Verge that it will be using the model home as an office to see how its idea shakes out.
These homes aren't part of the "tiny house" movement and you won't see suburbs of these 3D houses popping up across America. ICON is focused on creating homes in parts of the world that don't have the economic wherewithal to house the poverty-stricken.
While the company's main objective is to help reverse the global housing crisis, it also plans to build community-wide buy-in through the creation of manufacturing jobs that utilize local labor in those impoverished areas.
How these houses are built
The spotlight on this breakthrough falls on ICON's proprietary 3D printer "Vulcan" that uses a unique mix of concrete that hardens as it is printed. Vulcan's technology is a perfect match for ICON's vision as it was designed to work in the worst of circumstances and places where things like potable water and technical assistance are lacking.
"The walls of the printed house are stronger than cinder blocks after a few days of hardening," said Icon co-founder Evan Loomis, "although the house is ready for human occupation after the home is set up — which entails crew members installing windows, a wooden roof, basic plumbing, and electrical plumbing as the house is printed."
The plan
For this venture, ICON is collaborating with New Story, a California-based non-profit that describes itself as a "non-profit working to create a world where no human being lives in survival mode." To date, the company has built more than 1,500 low-cost, high-efficiency homes in developing countries like Bolivia, Haiti, and Mexico.
"New Story has been working to provide safe shelter for the last 3 years. But we knew traditional methods wouldn't make the linear change that's needed to impact the 1 billion people in need," New Story's CEO, Brett Hagler, told ConsumerAffairs.
"We set out researching new and unique models to get homes faster & cheaper without sacrificing quality. 3D printing had been our on radar but it wasn't until we got connected to ICON that we felt it would be a feasible possibility."
Now that the proof of concept has been finished, ICON and New Story will be moving into phase two by taking the idea to El Salvador and printing its first homes there. The companies are targeting the end of 2018 for the first homes to be printed and expect to have the first 3D printed community completed by 2019.