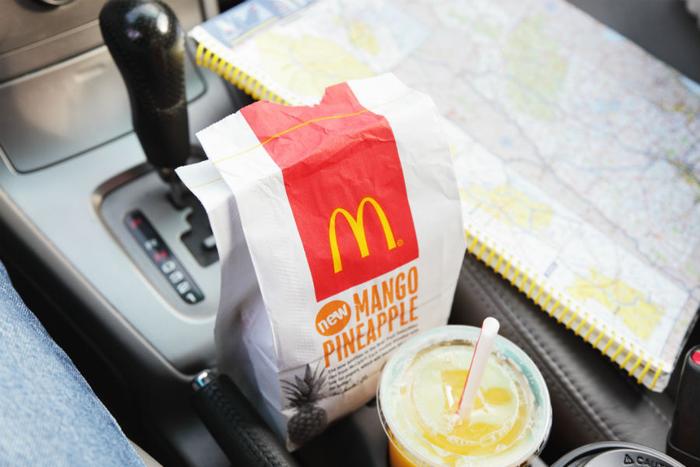 Somewhere, from a call center on the other side of the world, a man was calling the McDonald's two miles away from my home to let them know that I no longer wanted an Egg McMuffin.  
After several minutes of elevator music, the man with a thick accent came back on the line. The restaurant agreed to remove the McMuffin.
Uber, the rideshare leader that turned the taxicab industry upside down, is now trying to bring its influence and workforce to the growing industry of ordering food via smartphone. In its quest for food delivery domination, Uber has found an unlikely partner in McDonald's.
When Uber launched its UberEats application across American markets last year, it promised a meal delivery service "that makes getting food as easy as requesting a ride."
Uber was following in the footsteps of other food delivery applications like DoorDash, Favor Delivery, and Grubhub. For a fee that's usually around $5, (in UberEats' case, $4.99), a stranger delivers food from a participating restaurant in their personal vehicle.
It would seem that McDonald's, a chain that already makes the process of getting food extremely easy, wouldn't have much use for this service, but the companies are going for it anyway.
In May 2017, McDonald's announced that food delivery through UberEats is available at over 1,000 of its restaurants in the United States. What happens when two brands marketing to our laziness join forces?
Timeline of an UberEats McDonald delivery
1:25 p.m:  I'm just trying to browse the McDonald's menu and review my online shopping cart when I accidentally press the "Place Order" button. Unfortunately, my credit card information has automatically crossed over from my Uber account to UberEats.
I look for a cancellation button, and a search on the application leads to an explanation that orders cannot be cancelled if they are already being prepared. According to my order history, McDonald's began preparing my order at 1:25, the very minute that I placed it.
1:27 p.m: I call the 1-800 customer service number provided by UberEats and am connected to a man in another country who can make no promises, but who says he will try calling the restaurant on my behalf.
After a hold, he tells me that the restaurant will allow me to cancel the entire order, but this is the one and only time I will ever able to do so. Fearing I will make this mistake again, I ask him to just remove the Egg McMuffin. He must call the restaurant back to confirm this is possible.
1:52 p.m: My Uber driver arrives and agrees to a short interview.
He does not make much from UberEats. On my $35 McDonald's order, he took home $5, as he shows on his smartphone screen (customers have the option to tip, but they are not prompted to do so until several hours later).
He has been working since 9 a.m. that morning and has only earned about $30 so far. Why bother? To kill time. He explains that his delivery shift for his other, better-paying job doesn't start until the end of the day.
Before leaving, he hands me a bag from an expensive restaurant containing a gourmet bowl of pasta and pork. He couldn't find the person who ordered it and he no longer wants the food in his car.  
2:00 p.m: My neighbor gets the noodle bowl and I sit down to evaluate the McDonald's order.
I have a stained McDonald's coffee cup and find a hashbrown at the bottom of one bag. McDonald's and Uber refunded me for the Egg McMuffin I canceled and got rid of the sandwich but forgot to remove the accompanying hashbrown and coffee. Consumer: 1. Corporation: 1,000,000,000.
They got our other requests right--the burger has no onions or mustard, and we have more dipping sauces than we need.
Because McDonald's began "preparing" (read: heating up) this food over thirty minutes ago, it is lukewarm and will not be edible until we heat it up ourselves for dinner later. Afterwards, we are extremely thirsty and vow to never eat at McDonald's again.
There are benefits to smartphone food delivery, especially for small businesses that don't have a budget to deliver themselves. When the only restaurants by the office are fast-food joints, who wouldn't want a bowl of pho delivered from their favorite family-owned Vietnamese restaurant on a rainy lunch break?
But getting an Uber delivery from McDonald's has minimal benefit to anyone other than Uber or McDonald's.