---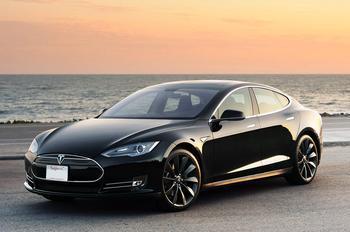 The old favorites -- Toyota, Ford, Honda and Chevrolet -- are still the leading car brands but Tesla is the one to watch, according to Consumer Reports' annual Car-Brand Perception Survey.
Telsa Motors, which jumped from 47 points last year, to fifth position with 88 points this year, had a strong year, with soaring stock prices, magazine awards, and exceptional crash-test performance.
Innovation, performance, and sleek styling are clearly gaining attention and making a positive impression. By gaining points in several categories, Tesla was able to raise its overall score. This highlights the value of being good at multiple things, rather than relying on a single facet.
Consumer perception of Subaru's safety is a key factor in that brand's ascension into the top 10. This modest-scale automaker has made big news over the past year with its "good" crash-test performance, among other accomplishments. All its models, except for the aged Tribeca, have earned coveted Top Safety Pick+ status from the Insurance Institute for Highway Safety (IIHS). The survey results suggest consumers are paying attention.
Among the tried-and-true brands, Toyota has a 25-point advantage over second-place Ford, reflecting a five-point gain over the year prior for Toyota and a three-point improvement for Ford. It could be interpreted that the safety concerns that saw the Toyota score stumble a few years ago have faded, returning the brand to its position as the perceived industry leader.
Consumer Reports brand perception scores reflect how consumers perceive each brand in seven important buying factors, ranked here in order of the importance to consumers: quality, safety, performance, value, fuel economy, design/style, and technology/innovation. Combining those factors produces the total brand-perception score. While the scores reflect a brand's image, they do not reflect the actual qualities of any brand's vehicles.
"The key word is 'perception'. Consumers are influenced by word of mouth, marketing, and hands-on experience. Often, perception can be a trailing indicator, reflecting years of good or bad performance in a category, and it can also be influenced by headlines in the media," said Jeff Bartlett, Consumer Reports deputy automotive editor.
That the remainder of the Top 10 all score 73 or higher is notable, for last year, there was a wider spread. Many brands impress consumers, creating a challenge for brands to distinguish themselves in the fast-moving marketplace. Likewise, consumers need to determine where to spend their money.
---