---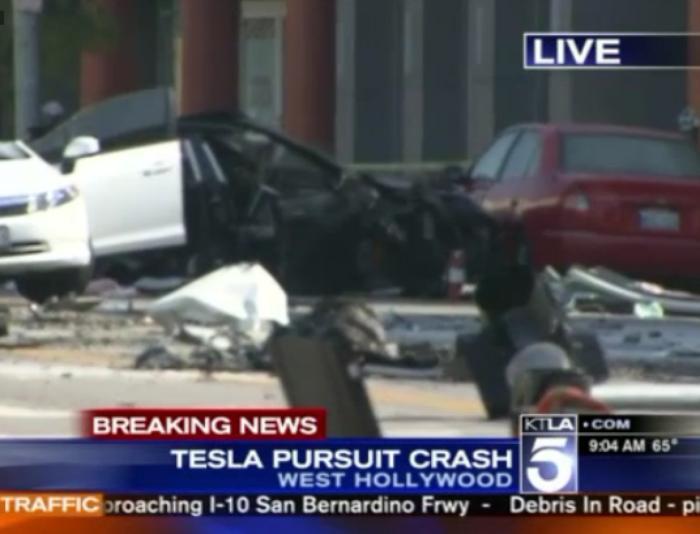 A stolen Tesla S split in two after a high-speed chase through West Hollywood over the weekend, and the carmaker is vowing to find out why.
Los Angeles Police said they received a call from a Tesla dealer that one of their cars was being stolen. Officers responded and a chase ensued, reaching speeds of 100 miles per hour, KTLA reported.
After hitting several other cars, the Tesla hit a lamp post, split in half and caught fire, according to local news reports.
Witnesses said the front half of the Tesla was on fire in the street while the other half was wedged into the entrance of a synagogue.
"I have never seen half of a car wedged into a building before," said Sheriff's Lt. Michael White, NBC4 reported.
The driver of the Tesla, who was at first thought be dead, was resuscitated and hospitalized. Occupants of several cars the Tesla struck were also injured, at least one seriously.
It's unusual for cars to split in half, even in a high-speed accident, and Tesla says it's eager to learn more.
"There aren't so many S's involved in major crashes, and certainly not quite like this one, so we absolutely want to have a look to understand what happened," Bloomberg quoted Simon Sproule, a company spokesman, as saying.
The Model S, priced from $71,000, has a five-star rating for crashworthiness, the highest designation granted by the National Highway Traffic Safety Administration.
The company added a titanium plate to the underside of the cars in March to protect the lithium-ion battery from possible damage in crashes and from road debris.
---