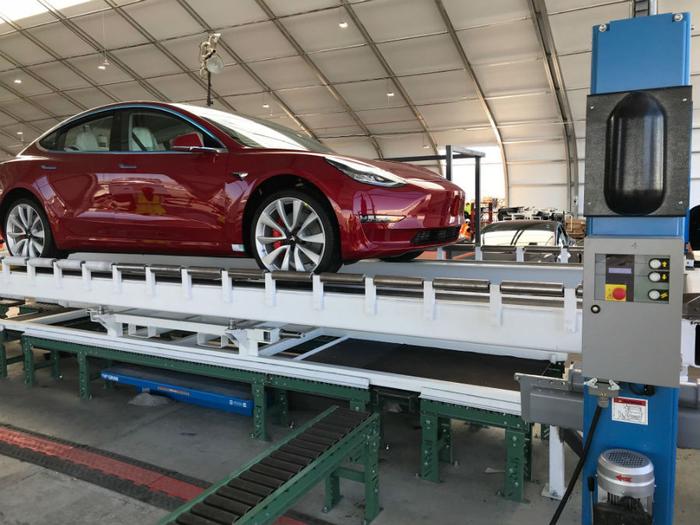 In an email to employees, Tesla CEO Elon Musk gave an update on the company's plan to produce 5,000 Model 3 cars per week by the end of this month.
Musk said the company is now producing "about 500" vehicles per day, or about 3,500 per week. He said that some parts of the production system have already reached 700 cars per day and praised staff for their hard work.
"It's getting very exciting! All parts of the Model 3 production system are now above 500 and some are almost at 700 cars already. Congratulations to all on making so much progress," Musk said in the email sent Friday night, obtained by Electrek.
However, Musk said that there are a few bottlenecks preventing all parts of production from reaching the goal of 700 cars per day. "Radical improvements" are still needed on some parts of the production line, he said.
To make sure the company hits its quarterly production targets, the CEO told employees that he will be at the Fremont factory "almost 24/7 for the next several days" to make sure the teams that are behind -- which include the paint shop and the end of the general assembly line -- get "as many resources as they can handle."
Ramping up production
Earlier this month, Musk said it is "quite likely" that Tesla will hit a weekly Model 3 production rate of 5,000 cars "by the end of this month."
Last week, Musk told staff that employees in non-critical positions would be let go under a broad reorganization effort intended to achieve profitability during the second half of the year. He said the company would be cutting at least 9 percent of its workforce, but employees involved in Model 3 production wouldn't be let go.
Tesla originally planned to make 5,000 Model 3 units per week by the end of 2017, but it ended up producing only 2,425 Model 3 cars in the fourth quarter of last year.
Musk has regularly referred to the early stages of production as "hell." In April, he revealed that he was sleeping on the factory floor to oversee Model 3 production when the company was trying to increase production by over 2,000 units per week.