---

Tesla is sort of the Donald Trump of the automotive world. It responds with over-the-top condemnation to any mildly negative criticism or assertion.
Currently, what has Tesla's dander up is a mild rebuke from federal safety regulators. The National Highway Traffic Safety Administration (NHTSA) called it "troublesome" that Tesla reportedly asked some customers to sign a nondisclosure statement when the company picked up out-of-warranty repairs.
Translation: Tesla asked the customers not to tell NHTSA about problems with the suspension on some of its cars, according to a report in the Daily Kanban, a blog that follows matters automotive. Tesla labeled the claim "preposterous" and issued a lengthy response saying it has "high confidence" in its suspensions.  
This was followed by a statement from NHTSA, saying it found the nondisclosure issue "troublesome."
"The agency immediately informed Tesla that any language implying that consumers should not contact the agency regarding safety concerns is unacceptable, and NHTSA expects Tesla to eliminate any such language," NHTSA spokesman Bryan Thomas said. 
"NHTSA always encourages vehicle owners concerned about potential safety defects to contact the agency by filing a vehicle safety complaint at SaferCar.gov," Thomas added.
Upper control arm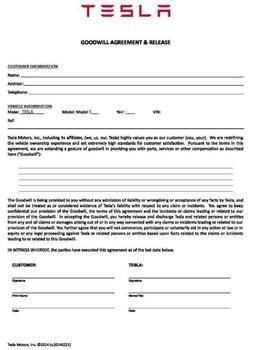 The Daily Kanban report was published following numerous postings in Tesla forums, including one in which a consumer said the suspension in his 2013 Model S failed with only 70,000 miles on it.
The Tesla owner, whose user id is gpcordaro, said he was driving down a back road near his Connellsville, Pa., home at about five miles per hour.
"The road was rough so my air ride was at it max lift. As I was proceeding down a steep hill I heard a snap and felt my steering wheel pull to the left. I stopped the car for further inspection only to discover that my left front hub assembly separated from the upper control arm," gpcordaro said. "Thank goodness I was not traveling at a high rate of speed. This could of [sic] been a tragic accident causing injury or even death."
Tesla initially refused to fix the suspension under warranty, saying the problem was caused by normal wear-and-tear, gpcordaro said. It later relented and agreed to pay half the $3,100 cost if the consumer agreed to sign a nondisclosure agreement, a document Tesla chooses to call a "Goodwill agreement." 
NHTSA said is conducting a "pre-investigatory" examination of the gpcordaro incident. Such actions can lead to a full-scale investigation, which in turn can lead to a recall.
Attacking the messenger
In its hot-tempered response, Tesla goes after Edward Niedermayer, publisher of the Daily Kanban.
Finally, it is worth noting that the blogger who fabricated this issue, which then caused negative and incorrect news to be written about Tesla by reputable institutions, is Edward Niedermayer. This is the same gentle soul who previously wrote a blog titled "Tesla Death Watch," which starting on May 19, 2008 was counting the days until Tesla's death. It has now been 2,944 days. We just checked our pulse and, much to his chagrin, appear to be alive. It is probably wise to take Mr. Niedermayer's words with at least a small grain of salt.
Tesla's tendency to go ballistic over incidents traditional automakers routinely shrug off or simply ignore sometimes backfires. The company's shares fell 2.6% after the nondisclosure reports surfaced yesterday, tumbling to $229.36, the biggest drop since May 9, according to Bloomberg  
---