---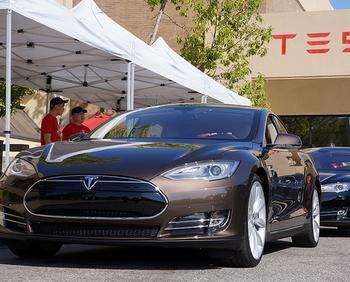 Things have been looking up for Tesla the last few days. The expensive all-electric luxury carmaker reported its first profitable quarter yesterday. But perhaps more surprising is that Consumer Reports magazine has given the Tesla Model S the highest score it's ever awarded a car -- 99 out of 100.
"The Tesla Model S takes everything you know about cars and stands it on its head," the magazine said. "It's a very agile, super-quick electric luxury sedan (with a hatchback!) that seats seven and gets the equivalent of 84 mpg."
While it's true that, like other all-electric cars, the Tesla S has a range limited by its battery. But the CR editors found that with the optional 85 kWh battery, the Tesla S can go between 180 and 225 miles on a charge, depending on the weather, about twice as far as any other electric car.
"Performance all-around is exceptional, with short stops, a superb ride, and an eerily hushed cabin. Almost all controls are done through a quick and capable iPad-like center screen," the magazine gushed, calling it "truly a remarkable car."
You night find it remarkable that anyone would give an almost-perfect score to a car that at best will go 225 miles without pausing for five hours or more to recharge. But when you consider the thing also costs $89,650, it's even more surprising.
Sales spurt
But it's not only CR's editors who are gaga over the car. Consumers like it too. Sales have been steadily rising and the company says it now expects to deliver 21,000 cars in 2013, up from a previous target of 20,000.
While you still might not want to invest $90,000 in a Tesla, investors have been rushing to buy the company's stock following yesterday's report of a first-quarter profit of $11 million on revenue of $562 million. The company's stock price was at $66.81 late this morning, up about 20%.
---