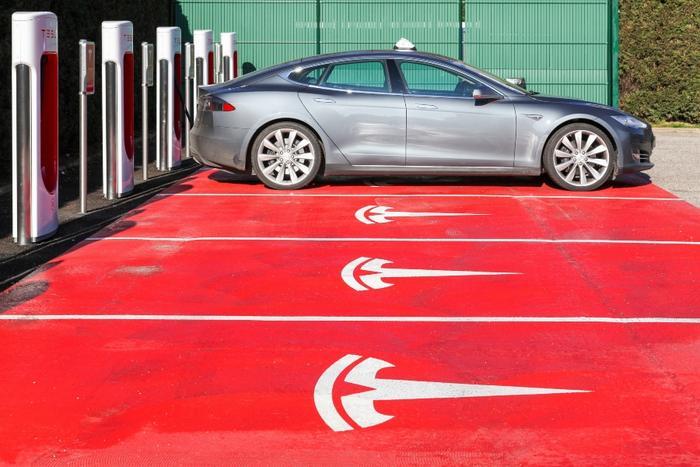 Tesla has disputed a claim that its cars are subject to instances of unintended acceleration as "completely false."
The claim was made in a petition to the National Highway Traffic Safety Administration (NHTSA) that pointed to 127 consumer complaints of the cars suddenly taking off on their own, leading to 110 accidents and 52 injuries.
In dismissing the claim, Tesla said the petition was filed by a person who is currently shorting Tesla stock, meaning they profit if the stock of the company goes down. Tesla stock is currently at record highs, with some analysts giving it a price target of more than $500.
In a blog post, Tesla said it reviews all complaints about its cars that are filed with NHTSA. In every case, it says there has been no evidence of unintended acceleration.
"While accidents caused by a mistaken press of the accelerator pedal have been alleged for nearly every make/model of vehicle on the road, the accelerator pedals in Model S, X and 3 vehicles have two independent position sensors, and if there is any error, the system defaults to cut off motor torque," the Tesla Team wrote.
'The car does what it's told to do'
The bottom line, says Tesla, is that its cars only accelerate if the driver told it to do so, and it slows or stops when the driver applies the brake.
In the last decade, Toyota recalled about 10 million vehicles in the wake of hundreds of complaints about unintended acceleration. The recall, however, was to replace floor mats that safety investors concluded were the cause of the crashes.
But that didn't stop reports of cars accelerating on their own. In 2015, federal safety regulators estimated there were 16,000 "preventable crashes caused by pedal error," attributing all the accidents to driver error.
It urged drivers to keep their feet in the middle of the accelerator and brake pedals and to wear suitable shoes. A NHTSA spokeswoman said footwear -- such as flip-flops, heavy boots, or high heels -- can contribute to pedal error crashes.