---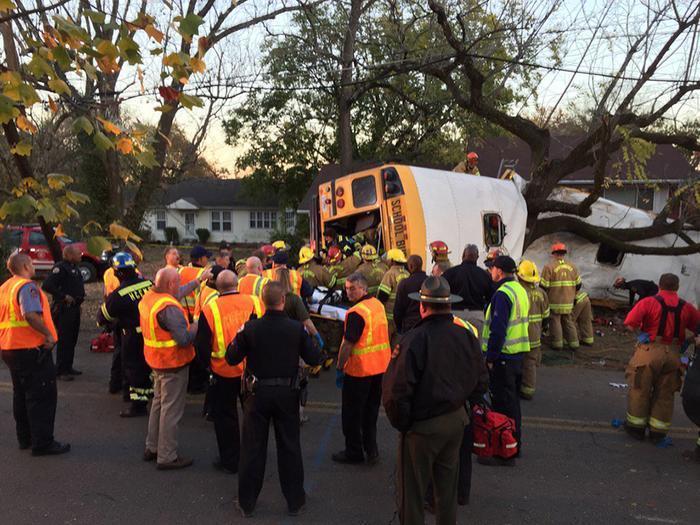 The deadly school bus accident that killed five elementary school children and injured many more in Tennessee has reawakened concerns about school bus safety.
Why is it, critics often ask, that toddlers riding in their parents' cars must be strapped into safety seats and protected by airbags and other safety devices while kids in school buses simply plop down on a hard seat surrounded by nothing but glass and metal surfaces? 
The National Highway Traffic Safety Administration says school buses' greater bulk makes them safer than passenger cars. 
"Large school buses are heavier and distribute crash forces differently than do passenger cars and light trucks. Because of these differences, the crash forces experienced by occupants of buses are much less than that experienced by occupants of passenger cars, light trucks or vans," NHTSA says on its website. It says that children on large school buses are protected through "compartmentalization." 
"This requires that the interior of large buses provide occupant protection such that children are protected without the need to buckle-up. Through compartmentalization, occupant crash protection is provided by a protective envelope consisting of strong, closely-spaced seats that have energy-absorbing seat backs," according to NHTSA. NHTSA rules, however, require seat and lap belts on smaller buses and vans.
But greater mass doesn't always help in rollovers and side-impact accidents. In the Chattanooga accident, a school bus being driven by a 24-year-old was carrying 35 children home from school Monday when it turned on its side and hit a tree. The driver was charged with vehicular manslaughter.
Much safer
The National Safety Council (NSC) insists that riding in a school bus is much safer than just about any other form of transport, noting that 25 million students ride the buses every school day. While there are occasional accidents, NSC calculates that the school buses replace what would otherwise be 17 million cars shuttling kids to and from school, with a much higher accident rate.
A 2002 NHTSA report to Congress found that the addition of lap belts did not improve occupant protection for the severe frontal impacts that were studied for that report.
Even so, NSC supports the use of shoulder and lap belts on school buses and notes that the belts have been made available on buses since 2002, and are required in California, Florida, Louisiana, New Jersey, New York, and Texas.
"Our patchwork system of laws, regulations and standards means the safety of our most vulnerable travelers can slip through the cracks," said Deborah A.P. Hersman, NSC president and CEO, in a statement on the organization's website. "It is time for consistent policies to ensure children arrive safely, regardless of the mode of transportation or the jurisdiction they travel through."
In August, the safety council issued a position paper calling for child restraints in school buses as well as ambulances, airplanes, and other transportation modes.
Thanks
Keep an eye on your inbox, the lastest consumer news is on it's way!
Unsubscribe easily whenever you want
---