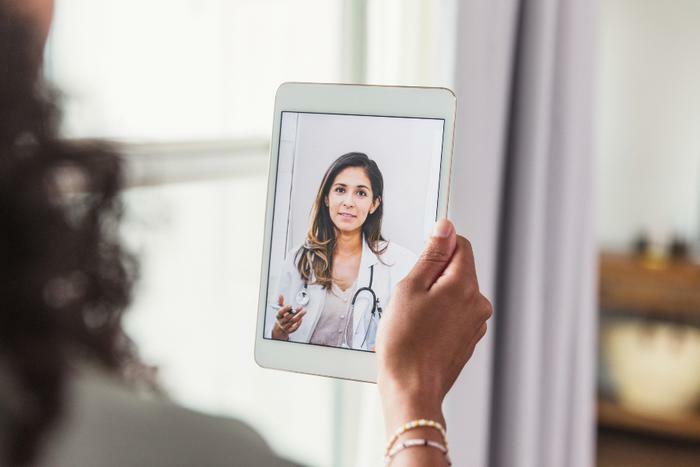 Prior to the COVID-19 pandemic, experts were highlighting the benefits of moving doctor's appointments to virtual platforms. Over the course of the last year, everything from therapy to visits to the vet went from in-person appointments to online sessions. 
Now, researchers from Syracuse University predict that telehealth services are likely to be one of the pandemic-related changes that stick around in the future. Despite the challenges associated with telemedicine, many practitioners see the benefits of treating patients this way and plan to continue offering these services beyond the COVID-19 pandemic. 
"In the U.S. we talk about this iron triangle of health care which is quality, access, and cost," said researcher Bhanveet Walia. "The results of this survey show that physicians who practice internal medicine are in favor, more than 40%, say they would continue telehealth. This is great in terms of achieving the iron triangle." 
Doctors are comfortable with telehealth
To understand doctors' perspectives on telehealth services, the researchers surveyed physicians across the country between July 2020 and September 2020. Nearly 150 respondents answered questions about their experiences using telemedicine technologies, if they participated in training related to this technology, and how likely they'd be to continue conducting virtual exams in the future. 
According to the doctors' responses, the pandemic led to a significant increase in the number of telehealth visits; the rate of virtual visits increased from just over 13% before the pandemic to nearly 60% in the early days of the pandemic. 
To ensure that patients were receiving the highest quality of care, many of the physicians participated in telehealth training programs. This helped them learn the ins and outs of the technology and made sure that exams ran smoothly. Looking to the future, more than 40% of the doctors said they'd continue offering their patients telehealth services post-pandemic. 
"I was surprised by the results," Walia said. "I initially thought that, because of the challenges of telehealth, physicians would not be in favor of continuing post-pandemic. It turns out they do. But make no mistake, there are challenges." 
Challenges still exist
The study revealed that there were a few challenges to consider when evaluating telehealth services, which included the cost of technology and training programs, the reliability of internet connection, and the time it takes to adequately train staff on these technologies. 
Moving forward, the researchers hope policymakers also consider the role that telemedicine can have on consumers and the economy. Walia explained that she's most worried that telehealth will reduce the number of options that are available to consumers, and she hopes that these findings draw attention to this potential issue. 
"As consumers, we want competition, which reduces the price and increases the quality," Walia said. "On one hand, from this survey I believe telehealth can increase access. On the other hand, as a health economist, I worry that market concentration will reduce access. 
"As a researcher, my goal is to understand the problem and anticipate future problems. This could be one," she added. "The goal of advancing telehealth is to increase access, and market concentration can make things work backwards. We cannot ignore this, if this is going to be the next big thing. Let's make sure, as policymakers, that we don't allow market concentration to happen."