---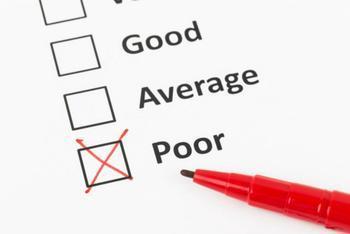 Whether it is a cell phone company or a cable TV provider, if it is in the communications business, chances are consumers have a complaint or two about it.
The American Customer Satisfaction Index (ACSI) measures consumer attitudes about the various products and services they use. The good news for telecommunications companies is their significant slide stopped in 2016.
The bad news is they are still held in low regard.
The latest results for the telecommunications sector, which covers pay television service, internet service providers (ISP), land line telephone service, wireless telephone service, and companies that make the phones, show a 1.9% gain to 70.1 on a 100-point scale. All five categories saw at least some improvement.
Nowhere to go but up
Subscription TV services may have the most work to do. A year ago, Comcast and Time Warner Cable (TWC) experienced the two largest declines in customer satisfaction. This year, the two cable providers got something of a bounce but remain among the weakest companies in the survey.
Overall, pay TV providers climbed 3.2% as a sector, scoring a 65. When Charter Communications completes its acquisition of TWC, ACSI predicts TWC will drag down Charter's satisfaction rating, at least in the short term.
"It's not too hard for cable companies to improve when their starting point is the cellar," said ACSI Managing Director David VanAmburg. "But for Charter Communications, its challenge will be to keep satisfaction levels from falling in the wake of a merger because ACSI data show that there tends to be a drop in customer satisfaction as companies combine operations and customer accounts."
Complaints
What sort of things do consumers not like about their TV providers? A quick look at ConsumerAffairs' reviews provides a few clues.
"Constant runaround, bill wrong, on hold for 20 minutes, get transferred, call gets dropped, started over, same thing... Hold... Hold... Hold," Peter, a TWC customer from Maine, wrote in a ConsumerAffairs post last week.
In fairness, it should be noted that similar complaints are lodged against just about every TV provider. The providers getting the best ACSI scores are Verizon Fios and AT&T U-verse.
The survey shows ISPs also managed to improve their scores somewhat, but they hold the dubious honor of being the lowest rated sector in the survey. And while consumers can cut the cord and rely on the internet for video programming, they have fewer options if they want to ditch their ISP.
Fewer consumer options
"High-speed Internet access is a must-have in the digital age, making ISPs and wireless companies critical providers for the workplace as well as the home," said Claes Fornell, founder and chairman of ACSI. "With relatively few options, consumers have limited means for punishing companies for poor service."
Which may lead to increased consumer frustration when things go wrong. Meanwhile, there appears to be markedly less frustration with both wireless providers and phone manufacturers.
"Now that contracts are becoming a historical relic, wireless companies are doing more to attract and retain customers in an environment where switching from one provider to another has never been easier," VanAmburg said. "The challenge for wireless carriers is finding a balance between cutting prices to attract new customers and investing in faster, more reliable network infrastructure to keep them."
In other words, there's nothing like a little competition to make companies work harder to keep consumers happy.
---