---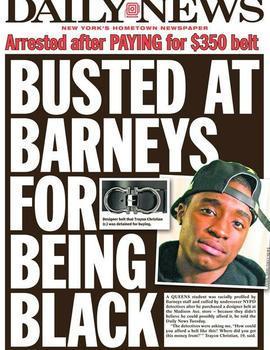 The good news for New York college student Trayon Christian is this: he stands a good chance of finishing his education without the massive student-loan debt burden that plagues so many of today's young graduates.
The bad news is: it's because of the lawsuit Christian has filed against luxury clothier Barneys New York, after Christian bought a designer belt there with his debit card last April, and Barneys allegedly called police on suspicion that Christian's debit card surely must be stolen. (It wasn't; Christian paid for the belt with money he'd saved from his part-time work-study job.)
The New York Daily News broke the story of Christian's resulting lawsuit on Oct. 22. Christian, now 19 years old, studies engineering at the New York City College of Technology and lives with his mother in Queens. He is African-American, and strongly suspects that's why Barney's staffers suspected him of stealing the money he spent on the $349 Ferragamo belt.
On the other hand. Barneys has denied any responsibility for Christian's ordeal, and released a statement saying:
"It is clear that no employee of Barneys New York was involved in the pursuit of any action with the individual other than the sale . . . . We are very sorry that any customer of our store would have this experience."
Christian said that on April 29, he went to Barneys after work and bought the belt, which he'd been wanting for some time. The store clerk asked to see his ID before selling him the belt; Christian showed his ID, signed for the belt and left the store with his purchase.
According to the Daily News, here's what happened next:
[H]e got no more than a block from the store when two undercover NYPD detectives stopped him … "They said my card wasn't real, it was fake. They said someone at Barneys called to report it," said Christian.

The male detectives — whose names he never learned — asked to see ID and look in his bag, he said. They also asked him if he worked, and where.

"I showed them my school ID and my driver's license," said Christian … "I kept thinking, 'Why is this happening to me?'" he said.

"The detectives were asking me, 'How could you afford a belt like this? Where did you get this money from?'" he said.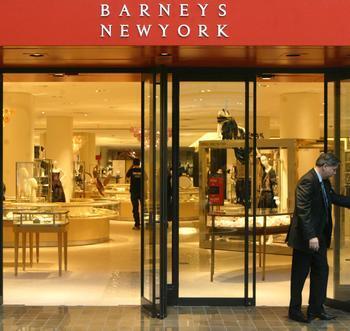 Christian's lawsuit alleges he was then handcuffed, taken to the police station and detained in a holding cell for two hours, before police released him with an apology. The NYPD, for its part, admits that Christian was detained but disagrees over how long: a police spokeswoman said Christian was brought in at 7:04 pm and released at 7:45. His attorney said Christian wasn't charged with anything.
The day after breaking the news of Christian's lawsuit, the Daily News reported a distressingly similar story: a black, 21-year-old nursing student named Kayla Phillips alleges that in February, she bought a designer handbag from Barneys, then plainclothes police harassed her three blocks from the store.
Barneys CEO Mark Lee responded to the second story with a statement repeating that:
"Barneys New York believes that no customer should have the unacceptable experience described in recent media reports, and we offer our sincere regret and deepest apologies … we want to reinforce that Barneys New York has zero tolerance for any form of discrimination. We are a strong proponent of equal rights and equal treatment for all human beings. Our mission is to ensure that all customers receive the highest-quality service—without exception.

To this end, we are conducting a thorough review of our practices and procedures as they relate to these matters to ensure that they reflect our continued commitment to fairness and equality. To lead this review, we have retained a civil rights expert, Michael Yaki, who also serves on the U.S. Commission on Civil Rights. … In addition, Barneys New York has reached out to community leaders to begin a dialogue on this important issue.
As consumer journalists, we generally advise people to avoid buying $349 belts or $2,500 handbags anyway, on the grounds that there are much better uses for your money. But we never imagined we'd have to add a disclaimer warning our readers (regardless of skin color) to avoid such extravagant purchases for fear of being arrested.
---