---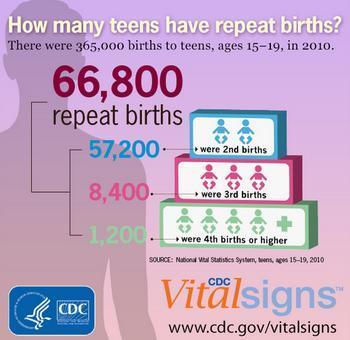 The number of teens giving birth has been falling for years, which is good. But what's not good is this: teens who are having babies tend to have more than one, according to a new report from the Centers for Disease Control and Prevention (CDC).
"Repeat births can negatively impact the mother's education and job opportunities as well as the health of the next generation," said CDC Director Tom Frieden. "Teens, parents, health care providers, and others need to do much more to reduce unintended pregnancies."
The CDC's Vital Signs report found substantial racial, ethnic and geographic differences in birth rates.
Repeat births: More than 365,000 teens, ages 15-19 years, gave birth in 2010, and almost 67,000 (18.3 percent) of those were repeat births.
Racial disparities: American Indians had the highest percentage of repeat teen births, at 21.6%. Hispanics were next at 20.9% and Blacks next at 20.4$. Whites were lowest at 14.8%.

Geographic disparities: Texas was the leader in r

epeat teen births at 22% while New Hampshire was lowest at 10%.

Contraceptives: The report found that although nearly 91% of teen mothers used contraception, only 22% used the most effective types.
---