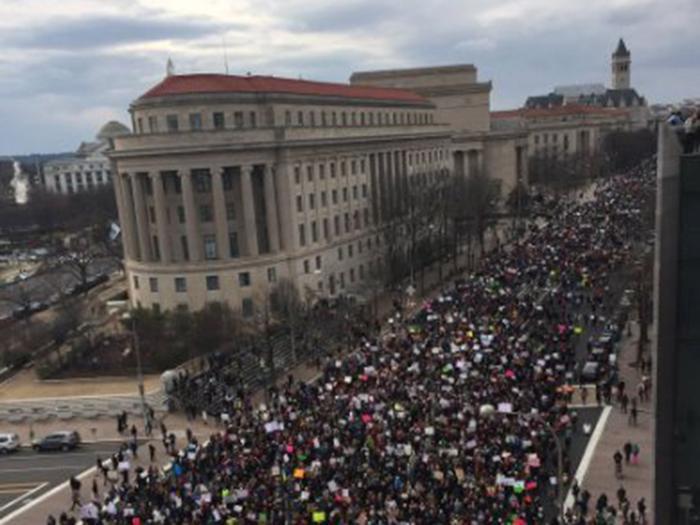 American businesses are responding to President Trump's executive order closing the borders to refugees, immigrants from certain countries, and even green card holders returning from overseas assignments or vacations.
The unprecedented action left hundreds of travelers stranded at airports in the U.S. and abroad and disrupted the travel plans of thousands of others. The action sparked huge demonstrations at major airports in New York, Washington, Los Angeles, and elsewhere, as well as on college campuses and the streets of major cities. 
It also brought an outpouring of support for refugees and immigrants from businesses including Uber, Lyft, Starbucks, and Airbnb.
Starbucks 10,000
Starbucks said it would hire 10,000 refugees over the next five years. Chairman and CEO Howard Schultz said in a letter to employees that the coffee retailer's effort would start in the United States where the focus would be on hiring immigrants "who have served with U.S. troops as interpreters and support personnel."
"There are more than 65 million citizens of the world recognized as refugees by the United Nations, and we are developing plans to hire 10,000 of them over five years in the 75 countries around the world where Starbucks does business," Schultz said.
Schultz also said his company would provide health insurance to eligible employees if the Affordable Care Act is repealed and would support an Obama-era immigration program that allows young immigrants -- so-called "Dreamers" -- who were brought to the country as children to apply for a two-year reprieve from deportation and a work permit.
Uber pledge
Uber also pledged to support employees and others affected by Trump's action. In a letter to employees, co-founder and CEO Travis Kalanick said the company would provide financial support for drivers and their families who are affected by the ban. He said the company already knew of "a dozen or so" employees who were traveling outside the country when the ban went into effect and might have trouble getting back in.
Kalanick, who earlier agreed to serve on a business advisory group put together by the Trump White House, said he planned to raise the issue of the travel ban when the group holds its first meeting Friday.
Lyft $1 million
Lyft pledged to donate $1 million to the American Civil Liberties Union over the next four years, noting that the organization has been providing legal representation to those blocked by Trump's action.
"Banning people of a particular faith or creed, race or identity, sexuality or ethnicity, from entering the U.S. is antithetical to both Lyft's and our nation's core values. We stand firmly against these actions, and will not be silent on issues that threaten the values of our community," said Lyft co-founders John Zimmer and Logan Green in a blog posting.
Airbnb housing
Airbnb offered free housing to refugees and others stranded by Trump's order. CEO Brian Chesky tweeted the offer late Saturday as travelers from several Muslim-majority countries found themselves detained or in limbo at airports around the world. 
Top executives from other Silicon Valley companies also condemned the action. 
Aaron Levie, CEO of the online cloud company Box, said: "On every level – moral, humanitarian, economic, logical, etc – this ban is wrong and completely antithetical to the principles of America."
Netflix CEO Reed Hastings said Trump's actions "will make America less safe (through hatred and loss of allies) rather than more safe." he wrote on his Facebook page.
Google co-founder Sergey Brin showed up at a protest at San Francisco International Airport and said, "I'm here because I'm a refugee," the Guardian reported. 
"As an immigrant and as a CEO, I've both experienced and seen the positive impact that immigration has on our company, for the country, and for the world," said Microsoft CEO Satya Nadella in a LinkedIn post. "We will continue to advocate on this important topic."
The general theme of the tech leaders' comments was that immigrants and refugees have contributed to American culture and its economy far out of proportion to their raw numbers. They noted a study by the National Foundation for American Policy, which reported that immigrants founded more than half (51%) of the current crop of U.S.-based startups valued at more than $1 billion.