---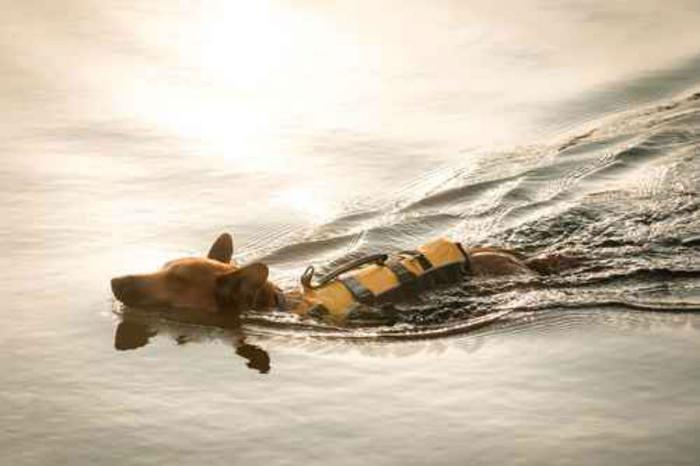 Even though school has started for many of the Western states, the temperatures outside still say that it's summer. August is typically a humid and hot month in most regions of the country, and nothing beats escaping that kind of weather like a dip in the pool, a splash in the lake, or a swim in the ocean. Why not bring your dogs along to cool off? Just make sure that they know how to swim.
In a community survey, leading pet-sitting community DogVacay found that 40 percent of dogs don't like going in the water. Some heavier breeds don't even know how to swim, a dangerous fact that many pet owners do not know. Even if your dogs were able to swim when they were younger, that does not mean that they still know how; many breeds lose their swimming skills as they age. These facts have led to thousands of pets losing their lives by drowning each year.
Alleviating anxiety
Although many dogs have anxiety about going in the water, there are many things you can do to help them cope with this fear. Safety, of course, is your number one priority. If you own a heavier breed that cannot swim, do not try to force the activity on them. You may only end up hurting them in the end. Pit bulls, for example, are not water-friendly dogs. Without a flotation device, they will sink to the bottom of a pool or lake instead of floating on top of it.
If your dogs simply have an aversion to water, there are other ways of making them come around to the idea of swimming. First, make sure that you get life vests for them. This will allow them to float, which can be a good first step in alleviating their fears. Start off in a shallow area that is nice and quiet. This will help your pets focus on the activity.
If your dogs panic when in the water, one thing they may do is inadvertently run out into deeper areas. To keep them from doing this, keep a leash on them so you maintain a semblance of control. Once they are able to swim to you when called, and they are confident in the water, then you can go without it. Older dogs may have trouble with knowing where to go because of poor eyesight. Stay close to them and help guide them if they lose their way. Be sure to never leave your dogs unattended when they are in the water.
When performing any kind of physical activity, like swimming, it is always important to keep your dogs hydrated. Bring fresh water with you so that they don't drink lake or seawater and become sick. Also, if there is a hose or rinsing station nearby, be sure to rinse your dogs off after swimming. This will clean them of any algae or residue that stuck onto their fur.
It's a good idea to teach your dogs to jump out of the boat and come back to you when called. Providing positive praise when they do something right and giving them a treat will help them associate good behaviors with something positive. It also allows them to learn more quickly. As long as everyone stays safe, you all can enjoy cooling off in the final leg of the summer season. 
---