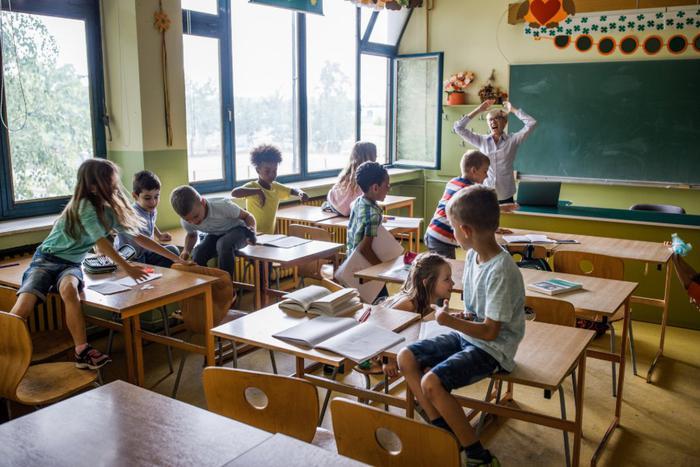 Teachers' stress has been a hot topic as of late, as experts have found that many educators are leaving the profession much earlier than anticipated due to work-related stressors. 
Now, a new study conducted by researchers from the University of Missouri-Columbia has found that teachers' stress could have a direct impact on their students' behavior. The researchers learned that kids are more likely to act out -- and get suspended -- when their teachers are visibly stressed throughout the school day. 
"Removing students from the classroom environment as a form of punishment can be really harmful, as research has shown it not only reduces student achievement but also increases the risk of dropout," said researcher Colleen Eddy.
"If we want to make schools a positive place for student learning, we first need to ensure it is a positive workplace for teachers," Eddy continued. "By giving teachers strategies to better manage disruptive student behavior, they will have more time for instruction and building those positive relationships with students." 
Managing teachers' stress
To gauge how teachers' stress can impact their students' bad behavior, the researchers pulled data from firsthand classroom observations and surveys of teachers from nine local elementary schools. They noticed that poor classroom behavior -- and interventions from administrators, like removing disruptive kids from the classroom -- are the most likely when teachers feel overwhelmed or burned out. 
After discovering this relationship, the researchers' goal was to discover ways that teachers can better manage their stress and kids' classroom behaviors. In hearing from students, they learned that kids want to feel supported and encouraged at school, which can become difficult for teachers when they're already feeling stressed and overwhelmed. 
As more and more teachers are ending their careers early due to the exceeding number of job demands, it's important that administrators do their part to ensure that teachers feel appreciated and respected. This can look different in each school, but the idea is that with better stress management tools, teachers will feel better equipped to handle classroom management in ways that best suit their students' needs. 
One such option is for teachers to develop a strong support network at school, as this can help them focus on the positive aspects of their jobs, while also giving them a safe space to discuss the things that can lead to stress and burnout. These sorts of discussions are designed to make teachers feel more empowered and show up as their best selves in the classroom for their students. 
"Teachers have the potential to impact the lives of so many students in their classrooms," said Eddy. "Therefore, supporting them with the skills they need in classroom management is really important because it will have a positive impact on their students in the long run."