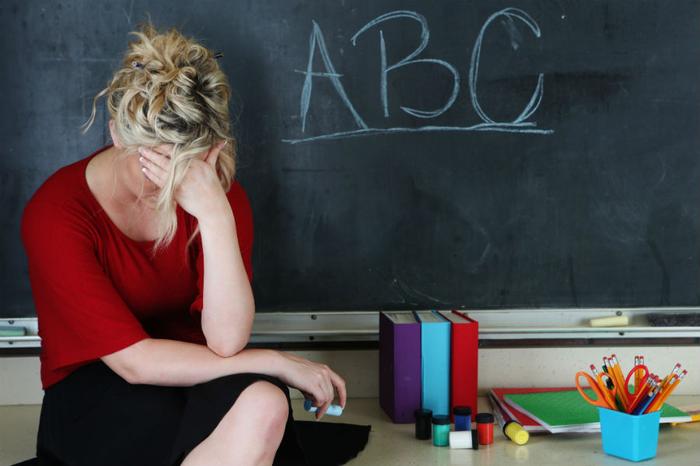 The number of adults choosing to pursue teaching as a career has declined sharply over the last eight years, according to a new analysis by the Center for American Progress (CAP). 
Enrollment in teacher preparation programs has fallen by more than half in the following nine states: New York, Pennsylvania, Illinois, California, Oklahoma, Michigan, Ohio, Indiana, and New Jersey. In Oklahoma, teacher preparation programs at colleges and universities have seen an 80 percent drop in enrollment since 2010. 
CAP researchers attributed the decline in part to low teacher salaries, which force many educators to take on second jobs or rely on Supplemental Nutrition Assistance Program (SNAP) benefits.  
"The state of the teaching profession is an urgent topic for policymakers and the public, especially against the backdrop of increased teacher strikes and walkouts across the country in the past two years," the researchers said in the report. "Due to low salaries, difficult working conditions, and a lack of career pathway opportunities, the teaching profession as a whole cannot compare with other high-status professions such as medicine and law." 
Stress and burnout
All told, there are approximately 340,000 fewer students enrolled in teacher preparation programs today than there were in 2010. 
Some would-be teachers have cited concerns about burnout as a deterrent to pursuing the career. Julia Alvarez, a senior at Michigan State University, said she's more worried about potential burnout than low pay. 
"The stuff that really worries me is the burnout aspect because I know that I care so much and I want to help," Alvarez, who will be graduating from MSU this spring, told U.S. News and World Report. "I'm so afraid of being five or 10 years in and being like, I can't do this anymore. That's the worst thing: wanting to help but not feeling like you can."
A number of other studies published this year have attempted to shed light on the impact of declining teacher rates, as well as look into what has fueled the trend. 
In April, a study found that 93 percent of teachers are affected by high levels of job-related stress, which takes a toll on their ability to effectively teach. A separate report found that a significant number of teachers are choosing to leave their teaching career after ten years on the job to pursue a different career path. Teachers often cited the need for a better work/life balance and less pressure on performance as reasons for resigning. 
"It's not as if they weren't aware that teaching was going to be demanding," the authors wrote. "However, they feel that the demands of the job outstrip their capacity to adapt. This raises the questions: what can be done to arrest this trend?"