---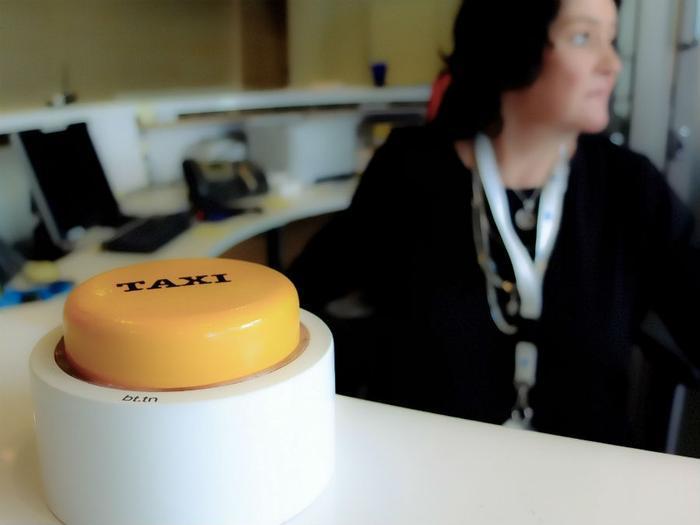 The emergence of ride-sharing apps like Uber and Lyft has been highly disruptive to the taxi industry, which operates under tight government regulation.
Now, some cab companies are trying to up their game to compete for passengers. In San Diego, San Diego Yellow (SDY) is using the Internet to fight back.
The company has launched its Concierge service with the technology firm Bttn. Bttn installs large, bright buttons in high traffic locations, such as hotels, restaurants, and boutiques – the kinds of places where customers often need to summon a ride.
By pushing one of these buttons, a consumer sends a taxi order to SDY to come to that address. Once the company receives the message and dispatches a cab, it then displays a confirmation light on the button.
To hear Bttn tell it, this is a much better and easier way to summon a ride than using a ride sharing app. The company says having a highly visible button in a commercial establishment is both faster and more convenient than app-based hailing.
Visibility
"With SDY Concierge, we can gain more visibility at the point of sale, improve our customer satisfaction, and strengthen customer lock-in," said Anthony Palmeri, President of SDY. "I see the super-easy bttn as one of the ways for the traditional taxi industry to go on-demand and keep our share of the pie."
Keeping its share of the pie has proved to be a challenge. In a recent study, Erica Taschler, a student fellow at the Institute for Consumer Studies, writes "the emergence of companies like Uber, the most successful ride-sharing company, threatens to eliminate the taxi industry's stronghold on the ground transportation market and possibly the industry itself."
In most cities the number of taxis on the street is limited by the number of taxi "medallions," or permits issued. According to the Federal Trade Commission, these medallions were selling for as much as $1 million before ridesharing. Now, they sell for about 25% less.
Fighting back
Harri Rautio, CEO of Bttn, believes his service is a way for traditional taxi companies to fight back.
"The bttn streamlines taxi ordering, saves time and money in the concierge locations, and offers our customers new revenue streams," he said. "We're thrilled to work with a market leader like SDY, as well as our local partner ButtonizeIT, who has been instrumental in working with SDY, configuring the solution and providing local support."
---